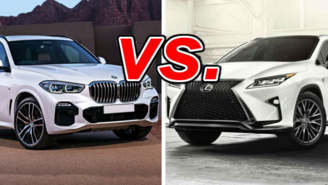 Lexus has slowly clawed its way from being a fringe competitor in the luxury car segment to a legit option for German car buyers. In the crossover segment, Lexus has turned into a legitimate force that tops the sales charts with its mid-size RX lineup. Though it often outsells the BMW X5, is the Lexus RX a better buy than mid-size Bimmer? Keep reading to find out.
See a side-by-side comparison of the X5 & RX »
What the X5 Gets Right
Though the 2019 X5 gets a new look, BMW was careful not to mess around too much with the design. While some may find this lack of change boring, traditional BMW buyers will appreciate its simple upgrade. Inside, BMW went further with its redesign with an all-new look and tons of new technology that puts it at the top of its class.
The BMW X5 is a strong performer across the board. In its base xDrive40i setup, a 340-horsepower, 3.0-liter turbocharged six-cylinder engine zips it to 60 mph in just 5.3 seconds. Things get even better when you upgrade to the 4.4-liter V8 that pumps out 456 hp and launched this mid-size SUV to 60 mph in just 4.6 seconds. Plus, the X5's standard all-wheel drive makes makes it a great option for buyers in snowy climates.
The BMW X5 is also ready to haul all the cargo you can toss at it with its max cargo capacity of 72.3 cubic feet. That bests the Lexus by 16 cubes.
What the RX Gets Right
The Lexus RX is the anti-Bimmer with its angular and sporty body that makes it stand out in a crowd. Some may find this a little over the top, but more outgoing buyers will love its standout looks. This style also comes with the expected Lexus price advantage, which gives buyers a $15,460 cushion between the base RX 350 and the X5 xDrive40i.
Inside, the RX offers up to three rows of seating for larger families and has 0.6 inches of extra rear-seat leg room in its two-row setup. On top of the extra leg room and the option for additional seating, the Lexus RX is among the quietest vehicles in its class.
The RX may not have the sheer power the X5 has, but its hybrid RX 450h model gets up to 31 miles per gallon city, 28 highway, and 30 combined, which is sure to top the X5 until its hybrid variant comes in 2020 or 2021.
Finally, the Lexus RX earned an Insurance Institute for Highway Safety (IIHS) Top Safety Pick rating thanks to its strong body and chassis, and standard automatic emergency braking. The IIHS has yet to test the new X5 for safety.
Stand Out in the Lexus RX
The Lexus RX is perfect for buyers who want a sharper look than the BMW X5 can deliver. With its three rows of seating, it's also perfect for larger families. Plus, its hybrid model is great for buyers with long daily commutes.
Verdict: BMW X5
The BMW X5 is hard to top despite its stratosphere-level pricing. It boasts all the premium features luxury-crossover buyers want, tons of options, a huge cargo area, and stunning performance.
Take a closer look at the BMW X5 »