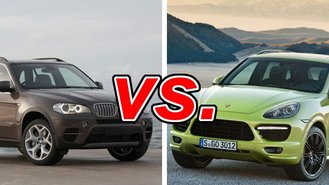 It seems that luxury SUVs are everywhere. What once was a novel vehicle choice has turned into a mandatory segment for every high-end automaker. Two prime examples are BMW and Porsche. BMW is more known for luxury sedans while Porsche is synonymous with performance coupes. Yet, both manufacturers introduced luxury SUVs in the early 2000s.
See a side-by-side comparison of the X5 & Cayenne >>
So how do the BMW X5 and Porsche Cayenne stand up to the competition, and to each other?
What the BMW X5 Gets Right
In typical BMW fashion, the X5 clings to the road with an agile grace one would expect from a performance vehicle. Which is good, because this is not a vehicle designed for off-road work. The X5 seats five and offers an optional third-row seat. We like this versatility, but the third row is rather cramped.
The X5 comes in five trim levels with a bevy of engine choices, including a turbo-diesel 3-liter V6. The interior options are nearly limitless, but the real joy of the X5 is driving it. On the road, few SUVs handle as well as this BMW. The X5 is nimble and quick, flies down the roadway, and handles like a BMW should.
What the Porsche Cayenne Gets Right
The Cayenne lineup is substantial, with six models including diesel and hybrid variants. While all of the engine choices are great, there's a noticeable performance difference between base 3-liter V6 and more powerful V8 and turbocharged V6 options on higher-end models.
The interior of the Cayenne is beautifully designed, with a cockpit style configuration and luxurious materials. While limited, the Porsche does have off-road capabilities -- even if the odds of anyone driving this handsome vehicle into the rugged wilderness are slim at best.
How Does the X5 Stack Up Against the Cayenne?
There's no doubt the X5 is a better driving choice -- which is saying something, because the Cayenne holds its own on the pavement. The X5's base engine is slightly better, but we prefer the 4.4-liter V8 in the Cayenne.
Cargo capacity is definitely better on the X5, but the interior design of the Cayenne is superior. There are a lot of options on both models and prices are fairly comparable -- though no X5 reaches $100,000 like the Cayenne does.
Our Verdict: Porsche Cayenne
While the X5 is a superior road machine, the options, price points, and interior design of the Cayenne is superior in our opinion.
Take a closer look at the BMW X5 >>