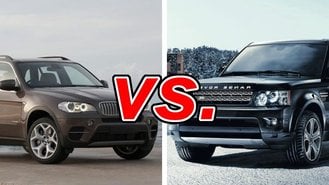 When the BMW X5 debuted back in 1999, it was the Bavarian automaker's first-ever entry in the CUV market, and benefited substantially from technology BMW obtained when it owned Land Rover. The X5 has since evolved into a formidable contender with a solid mixture of performance and luxury.
See a side-by-side comparison of the X5 & Range Rover >>
But with the arrival of a redesigned Range Rover Sport, can the X5 vanquish the shadow of its distant past once and for all? Or will the Range Rover's British heritage and legendary off-road capability allow it to snatch victory from BMW?
What the BMW X5 Gets Right
While the first-generation X5 had rather plain styling, the latest X5 boasts strong masculine design cues highlighted by a bold front fascia. Buyers will also be pleased with the X5's base 3-liter inline-six engine, which complements excellent driving dynamics with an even 300 horsepower and 300 pound-feet of torque. Buyers who want more power may specify an optional 400-horsepower 4.4 liter twin-turbocharged V8.
Why Buy the Range Rover Over the X5?
Unlike the BMW X5 and its brawny attention-grabbing exterior styling, the newest Ranger Rover Sport features an elegant-yet-purposeful appearance with many cues borrowed from its stylish sibling, the Evoque.
The Range Rover's engines are also more powerful -- its base 5-liter V8 makes 40 more horses than the BMW's inline-six, while its supercharged option churns out a whopping 510 horsepower. This advantage is reflected in lofty price tags that are higher than the X5's -- and can surpass $100,000 when fully equipped.
Why Does the X5 Outsell the Range Rover?

Mainly, the BMW has a more accessible pricing structure. And while the Range Rover offers serious off-road ability, most buyers don't actually need that.
Our Verdict: BMW X5
While the Range Rover gives buyers more prestige, power and standard equipment than the BMW X5, its higher price tag and questionable reliability keep it out of the top slot.
Take a closer look at the BMW X5 >>