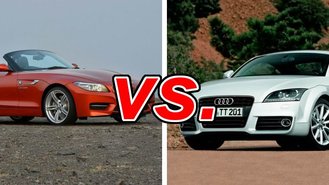 It's hard to beat the thrill of driving a truly excellent little roadster, and buyers have been chasing the feeling for generations. Based on style alone, the Audi TT is a top pick. But beauty is only skin deep, and the BMW Z4 has both style and brawn. So how do these two hot shots measure up in a head-on comparison?
See a side-by-side comparison of the Z4 & TT >>

Where the Audi TT Shines
The TT is undeniably one of the sexiest coupes on the road, and the fact that it only comes in one trim -- Premium Plus -- is a pretty good indication of what to expect. It houses a 2-liter turbocharged four-cylinder engine driven by a six-speed double-clutch transmission, propelling it from zero to 60 mph in a little over six seconds. Standard all-wheel drive lends extra stability in rough weather, and a sportier suspension is available as an upgrade for added enjoyment behind the wheel.

A long list of standard amenities include heated mirrors, leather upholstery and satellite radio. Trunk space is roomy when the rear seats are folded down. A number of optional upgrade packages make the ride even more personalized, and the TT also gets decently good mileage -- though that probably isn't a top concern for most buyers.

Where the BMW Z4 Shines
The Z4 is a high-class roadster with excellent handling and the kind of design that's ideal both for joy rides and the daily commute. There is ample legroom and trunk space, and the base level sDrive28i can make it from zero to 60 mph in under six seconds. The 35is provides the ultimate experience, amping up the power to a spine-tingling 335 horsepower with a seven-speed double clutch transmission.

Sporty yet dependable, the Z4 s a solid choice for sports car enthusiasts who also spend time in the real world. It has an ultra-comfortable interior with loads of standard features, including automatic climate control, eight-way power adjustable seats and Bluetooth. A suite of performance and luxury upgrade are also available for added customization.

So Which Will It Be?
The Audi TT is an excellent choice for drivers who want something a little showy on the outside and very luxurious on the inside. It is a pleasure to drive and fun to customize.

The Z4 is a sleek and dependable option with both a stylish appearance and a practical bent. It offers strong performance in a versatile package.

Our Verdict: BMW Z4
Both models are stylish and luxurious, but the Z4 delivers in the multipurpose department where the TT cannot.
Take a closer look at the BMW Z4 >>