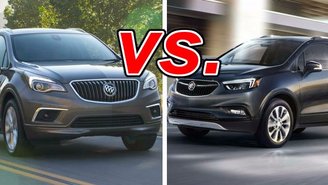 The Buick Envision is a midsize crossover with numerous convenience features and safety options. The exterior is smooth and trim, and the inviting interior gives you a sense of luxury and space. This crossover is designed with comfort, performance, and safety in mind.
The Buick Encore is a subcompact crossover, and what was once too small is now loved by many. The Encore provides both character and practicality, and its interior is more spacious that you might expect. This is a car that can compete with larger crossovers and smaller hatchbacks.
The Buick Encore is quite impressive, but can it compete with the larger Envision?
See a side-by-side comparison of the Envision & Encore »
What the Envision Gets Right
The Buick Envision features a 2.5-liter engine four-cylinder, which develops 197 horsepower and 192 lb-ft of torque. The exterior is attractive and features impressive options, like a surround-view camera system. The interior is spacious, and with the comfortable leather seats, the Envision a joy to ride in. The Envision comes with convenience such as front and rear automatic climate control, a heated steering wheel, and an easy-to-use infotainment system. As for the safety, collision mitigation with automatic braking and adaptive cruise control are available.
What the Encore Gets Right
The Buick Encore is equipped with a 1.4-liter engine four-cylinder engine that produces 138 horsepower. There're also an available 153-horsepower version of the same engine. The interior features impressive technology like a rearview camera and blind spot monitoring. Leather upholstery is available. On the outside, the subcompact Encore features 18-inch wheels, parking sensors, and body-color door handles.
Can the Encore Compete with the Envision?
The price difference is quite large, but so are the options, quality, and performance. If you are looking for a smaller car, the Encore will serve you well. However, it can't quite compete with the Envision's room and technology.
The Buick Envision is packed with luxury features, performance features, and most importantly, some of the most advanced safety features. This is a top contender in the crossover market.
Take a closer look at the Buick Envision >>