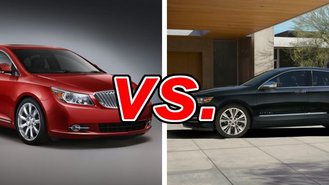 Here's a case of sibling rivalry if ever there was one: Two fullsize GM sedans with similar drivetrains, dimensions and equipment choices. Where do the Buick LaCrosse and Chevrolet Impala part company? Let's find out.
See a side-by-side comparison of the LaCrosse & Impala >>
What's to Like About the LaCrosse
The LaCrosse received a thorough styling update in 2014, plus a cleaner dashboard design for its elegant interior. Available features like forward collision alert and lane departure warning keep the LaCrosse's technology up to contemporary levels.
In keeping with Buick tradition, passenger comfort and ride quality are high priorities. The LaCrosse cruises as smoothly as anything else in its class, and the richly tailored cabin is exceptionally quiet.
The base 2.4-liter four-cylinder with electric assist produces 182 horsepower and earns an impressive 29 mpg in combined driving. Though not as efficient, the optional 303-horsepower 3.6-liter V6 is much more appropriate for a car of the LaCrosse's silky character -- and can be paired with all-wheel drive.
What's to Like About the Impala
The venerable Impala was all-new in 2014, boasting expressive styling and vastly improved interior refinement. Tech features like adaptive cruise control, smartphone integration and navigation became available for the first time. Unlike previous models, the current Impala is fully competitive with the best fullsize sedans.
The base engine is a 2.5 liter four-cylinder with 195 horsepower; healthy output for a non-turbo four. Like the LaCrosse, the Impala can get GM's direct-injected 3.6-liter V6, which makes 305 horsepower. With either engine, the Impala delivers a pleasant riding experience for five passengers, and composed handling.
What's the Difference?
The LaCrosse continues to impress us with its extreme quiet and smoothness. The only real flaw in the package is its undersized trunk, which doesn't make sense in this class. The updated Impala feels altogether more athletic, yet coddles passengers almost as well as the Buick. It certainly surpasses any previous Impala in features and refinement.
Our Verdict: Chevrolet Impala
A product of newer thinking, the Impala covers all the bases a fullsize sedan should.
Take a closer look at the Buick LaCrosse >>