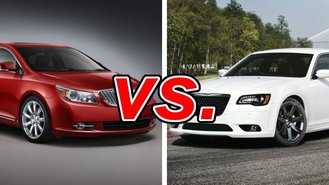 When Buick unveiled the current LaCrosse in 2010, the full-size sedan signaled an important shift in the brand's identity. No longer designed for older buyers, the LaCrosse appealed to younger customers with crisp, clean styling and a luxury-laden interior.
See a side-by-side comparison of the LaCrosse & 300 >>
But can the Buick LaCrosse compete with the "cool factor" of rivals like the Chrysler 300?
What The LaCrosse Gets Right
The LaCrosse looks the part of the upscale sedan with sleek exterior styling that incorporates Buick's trademark waterfall grille, hood mounted portholes and bright wraparound headlights. Buyers will be pleased with Lexus-inspired cues, especially in the rear fascia with its flowing tail lights.
The interior continues this elegant theme with heated and cooled seats, wood trim, Bluetooth, keyless entry and navigation. Performance comes from one of two engines: a frugal 2.4-liter four-cylinder with mild-hybrid eAssist technology, or a potent 3.6-liter V6 good for a healthy 303 horsepower.
Why Choose The 300 Over the LaCrosse?
The 300 counters the LaCrosse with exterior styling that refines the elegance of the old model with curvier lines up front and chrome accents in the taillights. The interior also coddles buyers with features such as heated and cooled leather seats, heated and cooled cup holders, push button start, keyless entry and navigation.
Don't looks for a four-cylinder option from the 300. Its base engine is a 300-horsepower 3.6-liter V6, and things only get better from there -- in SRT8 trim, the 300's 6.4-liter Hemi churns out 470 horsepower.
What Does Buick Need To Do To Make The LaCrosse More Compelling?
Buick might want to take a page from Chrysler's playbook and offer special editions that keep the basic design fresh and attract more young buyers. Alternatively, the General Motors division could add highly customizable option packages like those offered by BMW.
Our Verdict: Chrysler 300

The Buick LaCrosse is a viable contender in the full-size segment, but the Chrysler 300 edges ahead with better performance potential and a cool image the LaCrosse can't quite match.
Take a closer look at the Buick LaCrosse >>