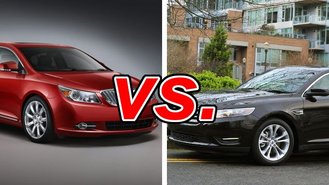 In their previous iterations, the Buick LaCrosse and the Ford Taurus were...well...a bit boring. In 2010, however, both received a redesign with striking sheetmetal and modern powertrains.
See a side-by-side comparison of the LaCrosse & Taurus >>
The Taurus managed to shed its old image and become a strong seller. The LaCrosse, however, is still saddled with Buick's old reputation as the automaker of choice for mature buyers who want something less flashy than a Cadillac. Can the LaCrosse help Buick shake this image and revitalize the brand?
What the Ford Taurus Does Right
The Taurus makes an immediate impression as you walk up to it in the parking lot. Bold lines and clearly-defined styling elements lend it a clean, fresh look. Distinctive styling continues in the cabin, where occupants can relax in comfortable seats and 102.2 cubic feet of interior room.
A 240-horsepower EcoBoost four-cylinder or 288-horsepower 3.5-liter V6 power most Taurus models. Both provide adequate power for this type of vehicle. For more performance-oriented shoppers, an SHO model is available with a twin-turbocharged version of the 3.5-liter V6. All Tauruses come standard with a six-speed automatic.
What the Buick LaCrosse Does Right
It wasn't difficult to improve on the previous LaCrosse's outdated V6 and four-speed automatic transmission. The latest LaCrosse went through a few powertrain combinations before settling on two choices: a mild-hybrid 2.4-liter four-cylinder or a 3.6-liter V6. Like the Taurus, the LaCrosse uses a 6-speed automatic transmission, and can be had with all-wheel-drive.
The interior has an upscale feel to it, with plenty of soft-touch plastics, wood and leather. The controls are split between an 8-inch touchscreen and an assortment of conventional buttons; some shoppers may prefer this arrangement to the high-tech MyFord Touch system found in the Taurus. Front seats are comfortable, and have a wide range of adjustment to accommodate almost any driver.
Should Younger Buyers Give the LaCrosse a Second Look?
The LaCrosse is not your grandfather's Buick. Quite the contrary, in fact. Having jettisoned the floaty ride and soggy handling that were common in Buicks of yesteryear, the LaCrosse serves up a thoroughly modern driving experience.
The Taurus is a strong competitor, and has a few tricks up its sleeve, such as EcoBoost and SYNC, but if shoppers can get around the badge, the LaCrosse is an option worthy of serious consideration.
Our Verdict: Buick LaCrosse
The LaCrosse edges past the Taurus, thanks in part to more user-friendly controls and a more powerful V6 engine.
Take a closer look at the Buick LaCrosse >>