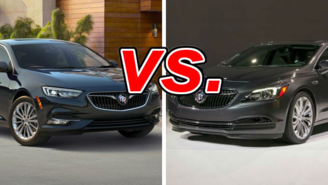 Buick offers a pair of four-door models that suit a wide range of buyers in the Regal and LaCrosse. While there are many similarities between these showroom siblings, Buick tuned each one for specific buyers. Which of these near-luxury sedans is better for your family? Continue reading to find out.
See a side-by-side comparison of the Regal & LaCrosse »
What the Regal Gets Right
The Buick Regal shifted to a pair of all-new cargo-friendly layouts with its 2018 redesign: a standard sportback and TourX wagon. These new designs open 31.5 to 60.7 cubic feet of cargo room in the sportback body and 32.7 to 73.5 cubes of space in the TourX wagon. These measurements at least double the LaCrosse's 15 cubes of luggage space. And they offer this space while still giving rear passengers up to 36.9 inches of leg room.
The Buick Regal is also smaller than the LaCrosse by 4.6 inches in its sportback body and 1.2 inches in its TourX body, making it easier to zip through traffic and park in tighter spaces. Plus, as the smaller of the two, the 2019 Regal's $25,995 (destination fees included) starting price is $4,500 cheaper than the base LaCrosse.
Powering the Buick Regal is a standard 2.0-liter turbocharged four-cylinder engine that delivers 250 horsepower and 295 pound-feet of torque, which beats the base LaCrosse by 56 hp and 108 lb-ft of torque. Optionally, buyers can add a 3.6-liter V6 that delivers the same 310 hp as the LaCrosse's V6 engine.
What the LaCrosse Gets Right
The Buick LaCrosse is a larger sedan that delivers more passenger room than the Regal, including an extra 0.7 inches of front shoulder room, 1.2 inches of rear shoulder room, and 1.1 inches of rear leg room.
Under its hood, the LaCrosse comes standard with a 2.5-liter four-cylinder engine that pairs with a mild-hybrid system to deliver 194 hp and 187 lb-ft of torque. Yes, this falls way short of the Regal, but its EPA-estimated 25 miles per gallon city, 35 mpg highway, and 29 combined beats the base Regal by three mpg across the board.
As the larger and pricier of the two Buick sedans, the Buick LaCrosse has more standard features than the Regal. These include leatherette upholstery, 18-inch alloy wheels, power front seats, an eight-inch touchscreen, an eight-speaker audio system, and more. And like the Regal, Apple CarPlay and Android Auto are standard.
Sportiness and Roominess Goes to the Regal
It's a tough call between the Buick Regal and Buick LaCrosse, as both have loads to offer buyers. The Regal, loses this tight matchup, but it's perfect for buyers who need the extra cargo space its sportback and wagon body styles add or those who prefer the pep of the turbocharged 2.0-liter engine.
Verdict: Buick LaCrosse
The Buick LaCrosse barely edges out the Buick Regal with its features that better fit the average buyer. These include the extra rear-seat room, thriftier base engine, larger base touchscreen, and leatherette upholstery.
Take a closer look at the Buick Regal »