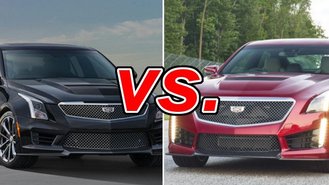 In a battle of the Cadillac's performance titans, with a combined 1,104 horsepower on tap, the ATS-V takes on the CTS-V. Is the pricier CTS-V's massive engine enough to hold off the twin-turbo masterpiece under the hood of the ATS-V?
See a side-by-side comparison of the ATS-V & CTS-V »
What we like about the Cadillac ATS-V
Cadillac's ATS-V is an attractive sports sedan or coupe that's built to challenge European rivals from BMW and Mercedes-Benz. The 3.6-liter V6 is nothing short of brilliant -- a twin-turbocharged monster that produces an incredible 464 horsepower and 445 pound-feet of torque. Outfitted for the track but loaded with the goodies that make a Cadillac a luxury car, the ATS-V rockets from 0 to 60 mph seconds in just 3.8 seconds, and can continue on to a remarkable 189 miles per hour. Despite this performance potential, the ATS-V is rated for 17 mpg city and 24 mpg highway.
What we like about the Cadillac CTS-V
The latest CTS-V packs a punch. With performance numbers that would have been reserved for alcohol-powered drag cars just a couple decades ago, the CTS-V offers luxury and performance to rival favorite European sports sedans. Powered by a supercharged 6.2-liter V8 engine, the CTS-V creates 640 horsepower and 630 pound-feet of torque. The family sedan tears from 0 to 60 mph in a breathtaking 3.7 seconds and eventually reaches a top speed of 200 miles per hour. Gas mileage is, as expected, somewhat meager: 14 mpg city and 21 mpg highway.
Our Verdict: Cadillac CTS-V
Maybe this isn't exactly a fair fight. I will openly admit that my decision leaves price tags out of the picture. The CTS-V is an incredible machine, essentially a supercar with four doors that you can use to take the entire family on a cross-country road trip.
Take a closer look at the Cadillac ATS-V »