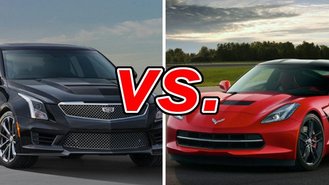 Two seats or four? GM's glorious performers take to the ring in an epic sub-four-second-zero-to-sixty battle that ends in a surprisingly close decision.
While the Cadillac ATS-V and the Chevrolet Corvette may seem like an unlikely comparison, similarities in performance and pricing make this an interesting fight.
See a side-by-side comparison of the ATS-V & Corvette »
What we like about the Cadillac ATS-V
New for the 2016 model year, Cadillac's new ATS-V is an attractive sports coupe or sedan designed to challenge European rivals from BMW and Mercedes. The 3.6-liter V6 is nothing short of brilliant. The twin-turbocharged monster produces an incredible 464 horsepower and 445 pound-feet of torque. Specifically built for the track but loaded with the goodies that make every Cadillac a luxury car, the ATS-V rockets from 0 to 60 mph in 3.8 seconds and can continue on to a scary 189 miles per hour. Gas mileage for the ATS-V isn't bad -- 17 mpg city and 24 mpg highway.
What we like about the Chevrolet Corvette
Very few American vehicles have the pedigree and heritage of Chevy's legendary Corvette. Now in it's 62nd model year, "America's Sports Car" has always offered incredible performance and style for an excellent price.
The latest Corvette, the C7 Stingray, combines a modern take on the Corvette's iconic shape and blistering performance to create the fastest, best-handling version to date. For our discussion we will consider the Corvette Stingray Coupe 1LT with Z51 Performance Package and optional magnetic selective ride control. This configuration is similar to the base ATS-V, both in features and in price. The Corvette's 6.2-liter V8 engine boasts 460 horsepower and 465 pound-feet of torque. Zero to sixty zips by in 3.7 seconds. The C7's top speed is 181 miles per hour. Gas mileage in the Corvette is 16 mpg city and 29 mpg highway.
Our Verdict: The Chevrolet Corvette
While a GM dream garage would contain one of each, the Chevrolet Corvette wins based on slightly better performance numbers and highway fuel efficiency, a nifty removable top, and irresistible styling. Of course, if you need more than two seats and cargo space matters, the ATS-V has a leg up on the Stingray and can easily qualify as one the greatest American family cars of all time.
Take a closer look at the Cadillac ATS-V »