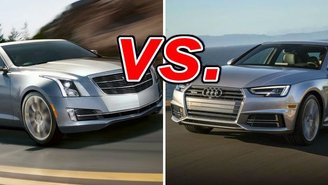 The Cadillac ATS and Audi A4 have both recently undergone big changes. The ATS sees the elimination of its wheezy base engine in favor of its turbocharged four-cylinder. The A4, on the other hand, gets a full revamp that includes a new look, new safety features, and a new powertrain.
Which of these updates trumps the other? Continue reading to find out.
See a side-by-side comparison of the ATS & A4 >>
What the ATS Gets Right
Many drivers value rear-wheel drive for its handling, which the ATS provides. Recently, Cadillac scrapped its subpar 2.5-liter base four-cylinder and made the 2-liter turbocharged engine, which cranks out 272 horsepower and 295 pound-feet of torque, the new base powerplant. What's more, the ATS also has an optional 3.6-liter V6 with a mighty 335 horsepower at its disposal.
Thanks to its added power, the range-topping V6 offers outstanding 0-to-60 mph acceleration.
Rounding out the benefits of the ATS is its lower starting price and standard features that nearly mirror those of the A4.
What the Audi A4 Gets Right
The A4 gets an all-new look that retains the timelessness of this sedan but gives it a slightly more modern twist. In addition to this new look comes a revamped interior with loads of premium features, including standard leather upholstery.
While the A4 does give up a bit in the power department, its 0-to-60 time is significantly better than the base ATS's sprint time. On top of being quicker, the A4 also delivers better fuel economy at 25 mpg city and 33 mpg highway with front-wheel drive, and 24 mpg city and 31 mpg highway with Quattro all-wheel drive.
Inside, the A4 offers more than 2 inches more rear legroom, a little extra shoulder room, and lots of extra room in the trunk.
Finally, the A4 received an IIHS Top Safety Pick+ designation thanks to its "Good" test results in all of the crash tests and "Superior" front-crash protection.
The ATS Still Has a Place
The ATS was once the clear winner in this head-to-head battle, but the redesigned A4 has finally edged its out. Despite losing out in convincing fashion, the ATS still has a place in the luxury car market. Its lower base price and rear-wheel drive setup are dealmakers for some buyers, as is its potent V6 powertrain.
Our Verdict: Audi A4
The A4 has overcome a lot in its new generation as its new powertrain is now better than the base ATS's engine, the new look is a great take on the A4's classic appearance, and its safety ratings are incredible.
Take a closer look at the Cadillac ATS >>