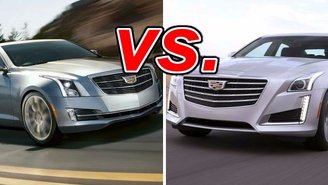 The compact Cadillac ATS, available as a coupe or sedan, is the American luxury brand's take on a small, light, stylish sports sedan. The midsize CTS kicked off Cadillac's renaissance years ago, and the third-generation model gives buyers more room inside and a plusher driving experience, without compromising driving fun.
Both cars perform utter precision and pamper to Cadillac standards. But which one offers the best of both worlds?
See a side-by-side comparison of the ATS & CTS »
What the ATS Gets Right
Cadillac designed the rear-drive ATS from the ground up to be lean and nimble. With the lowest curb weight in its class and near-perfect weight distribution, the ATS handles aggressively without losing its composure. When spirited driving isn't on the agenda, the ATS settles into a proper luxury car with a ride that's firm but not punishing, and a reasonably quiet cabin.
The ATS starts out with a 2.0-liter turbocharged four-cylinder that delivers 272 horsepower to the rear wheels. Enthusiasts might want to stick with the standard six-speed manual transmission, but most buyers spring for the optional eight-speed automatic. The automatic is mandatory with the available 3.6-liter V6, which gives the ATS a boost to 333 hp. Both engines are available with all-wheel drive.
What the CTS Gets Right
The CTS sits firmly in the midsize luxury class, which means there's more room for legs and elbows, and a higher level of interior craftsmanship on display. The CTS still feels sporty inside, like a high-tech performance car with a decorator's touch.
The CTS can get the same 2.0-liter turbo or V6 engine as the ATS, although the manual transmission doesn't make the cut. An eight-speed automatic sends power to the rear axle, or to all four wheels via an optional all-wheel-drive system.
The other engine choice is a twin-turbo 3.6-liter V6, available on the VSport trim, that stirs up 420 horsepower and 430 pound-feet of torque. The twin-turbo gets a specially tuned eight-speed automatic and is rear-drive only.
Boredom Isn't an Option
We have no problem affixing the sport sedan label to either car. Both are rewarding to drive and exciting to a point. The key difference is one of character. The ATS comes off as a scrappy contender that's eager to play. The CTS is the poised grown-up of the pair, content to cruise or rumble as the driver wants.
Our Verdict: Cadillac CTS
The CTS is a Renaissance luxury sedan, adept at any role it's asked to fill.
Take a closer look at the Cadillac ATS »