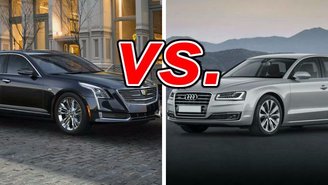 The Cadillac CT6 is one of the most luxurious full-size vehicles on the market. The exterior screams elegance, from the chrome trim all around, to the iconic overall shell. The CT6 can compete alongside the best of its class.
The Audi A8 continues to fly the legendary Audi quality flag. The exterior is smooth and iconic, you simply can't help but admire it. The interior is filled with top-notch materials and technology. The Audi A8 is one of the leaders in the full-size luxury sedan market.
The Cadillac CT6 is tremendously impressive, but can it match the legendary quality of the Audi A8?
See a side-by-side comparison of the CT6 & A8 »
What the Cadillac CT6 Gets Right
The Cadillac CT6 comes equipped with three different engine options: a 3.0 twin-turbo V6 engine, which generates 404 horsepower, a 2.0 turbo four-cylinder engine, which develops 265 horsepower, and a 3.6 six-cylinder engine, which produces 335 horsepower.
The exterior is quite attractive and impressive, featuring large 19-inch wheel options, LED headlights and taillights, and fine materials all around its shell. On the inside, the cabin is nothing short of mind-blowing, as it features fine leather seats, a rearview camera, and a 360-degree view around the outside of the car. As for safety, Cadillac left nothing to be concerned about, as they upgraded the CT6 with features like self-parking, pedestrian detection, and rear cross-traffic alert, among many other. This Cadillac CT6 is a true joy to be in.
What the Audi A8 Gets Right
The Audi A8 comes with four different impressive engine options: a 3.0 V6 engine, which develops 333 horsepower, a 3.0 turbodiesel V6 engine, which offers 240 horsepower, a turbocharged 4.0 V8 engine, which produces 435 horsepower, and finally, a 6.3 V12 engine, which lays down 500 horsepower. The Audi A8 comes with various options like a panoramic sunroof, a cold weather package, and even a rear video entertainment system. All versions offer top-level safety, performance, and riding comfort.
Can the CT6 Match the Audi A8's Quality?
The CT6 offer a tremendous amount of futuristic features, as well as some of the most luxurious trappings in this class. It's also significantly less expensive that the A8.
The Cadillac CT6 offers the handling of a sports car, along with the space of a full-size car. It's loaded with everything buyers expect when when shopping in this league and then some.
Take a closer look at the Cadillac CT6 >>