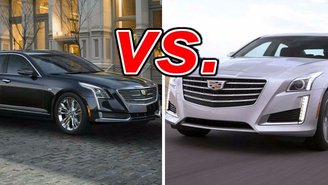 The Cadillac CT6 comes equipped with everything you need to enjoy a comfortable, luxurious, stylish, and safe ride. The exterior is large, attractive, and filled with fine touches all around, and the interior is elegant, spacious, and loaded with advanced features. This is one of the best full-size luxury sedans on the market.
The midsize Cadillac CTS offers edgier styling and sportier handling the larger CT6. Inside, the CTS is nearly as luxurious, though not quite so spacious.
Which is the better deal for buyers in the market for a luxury sedan?
See a side-by-side comparison of the CT6 & CTS »
What the CT6 Gets Right
The Cadillac CT6 features an extremely advanced and high-end exterior. All the small trim and touches around the shell of the CR6 looks expensive, unique, and elegant. When you are purchasing this car, you will be faced with three engine choices: a turbocharged 2-liter four-cylinder with 265 horsepower, a 3.6-liter V6 engine good for 335 horsepower, and a 3-liter twin-turbo V6 that lays down 404 horsepower. The interior is constructed from the finest materials. The wood trim, the leather seats, and the spacious cabin give this interior the most elegant and luxurious feel; not to mention the impressive features all round like a 360-degree monitor, a head-up display, and 20-way massaging front seats.
What the Cadillac CTS Gets Right
The Cadillac CTS comes with your choice of three engines: a 2-liter turbocharged four-cylinder engine with 268 horsepower, a 3.6-liter V6 that produces 335 horsepower, and a twin-turbo version of the same that's good for 420 horsepower. The CTS comes with various wheel options up to 19 inches, a sport-tuned suspension, and a panoramic sunroof. Available safety features include a suite of driver-assist technology and an automated parking system. This car will perform like a sports car, drive like a luxury car, and look lie something from the future.
Is the CTS a better deal than the bigger CT6?
Both cars offer extreme amounts of luxury, performance, and safety, but the relatively small $8,000 difference makes the CT6 the smarter choice. It simply offers you more for your money
The CT6 scores high on luxury, performance, and value. That combination of virtues is hard to beat.
Take a closer look at the Cadillac CT6 »