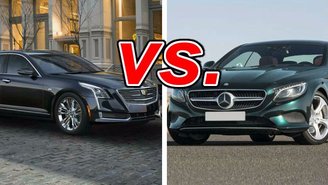 The Cadillac CT6 was introduced in 2016, and after receiving great feedback, sees minor changes for the 2017 model year. The luxury sedan is spacious, finely designed, and extremely safe, inside and out. This is one of the most elegant full-size sedans on the market.
The Mercedes-Benz S550 brings a high level of prestige that is difficult to match. This full-size luxury sedan features updated front and rear styling this year, which adds to its elegance The inside is constructed from the finest materials all around and loaded with advanced technology. The S550 sets the bar incredibly high.
The Cadillac CT6 is quite impressive, but can it compete with the legend that is the S550?
See a side-by-side comparison of the CT6 & S550 »
What the Cadillac CT6 Gets Right
The Cadillac CT6 comes with three different engine options: a 2-liter turbocharged four-cylinder with 265 horsepower, a 3.6-liter V6 engine that produces 335 horsepower, and a 3-liter twin-turbo V6 engine that's good for 404 horsepower. On the outside, you have the option of going with wheels as big as 20 inches, as well as chrome trim all around. Inside, the cabin is filled with comfortable and advanced features, from a 360-degree view monitor to a panoramic sunroof. As for safety, the CT6 features low-speed automatic braking, lane keeping assist, and front collision alert. This sedan is a true joy to drive.
What the Mercedes-Benz S550 Gets Right
The Mercedes-Benz S550 comes equipped with a twin-turbo 4.7-liter V8 engine that lays down 449 horsepower. The air suspension is adjustable, which makes for better handling while maintaining supreme ride comfort. The S550 comes standard with adaptive cruise control and cross traffic alert with pedestrian detection. Night vision is available. The interior of the S550 is surrounded by fine materials, from fancy upholstery stitching, to wood-trim all around, giving this cabin a most luxurious and elegant feel. The exterior is smooth, iconic, and advanced, with features like crystal trim around the headlamps and automatic soft-close doors. This car is one of the top competitors on in its class.
Can the Cadillac CT6 Compete with the Mercedes-Benz S550?
With the CT6, you will get tremendously advanced and comfort features for much less money. However, it can't compete with the quality, technology, and comfort the Mercedes-Benz S550 brings.
It's difficult to find a vehicle that can match the quality, safety, and comfort of the S550. This full-size sedan is equipped with anything and everything, making it one of the best on the market.
Take a closer look at the Cadillac CT6 >>