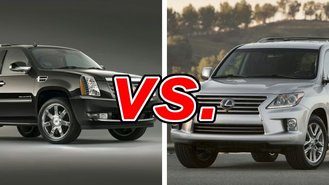 Old-school SUVs remain very much in style at the very top of the market. Affluent buyers still want massive luxury liners that can haul their toys and leave the road when the mood strikes.
See a side-by-side comparison of the Escalade & LX 570 »
In defiance of market trends, the Cadillac Escalade and Lexus LX 570 have endured for years by refusing to compromise on weight, engine displacement or exterior dimensions. They carry on as muscular dreamboats for buyers who can't help but think big.
Which comes closer to our ideal of the ultimate SUV?
What's to Like About the Escalade?
The Cadillac, totally redesigned in 2015, is big enough to make regular cars look like toys, and flashy enough to make almost everything else look plain. Inside, the supple leather seating for eight and expansive headroom give the feeling of riding in the first-class cabin of a jumbo jet. The Escalade also offers plenty of entertainment and comfort options to keep passengers content on long trips.
A 6.2-liter V8 develops 420 horsepower, enough to propel the Escalade from zero to 60 mph in about 6 seconds flat. There's plenty of thrust for towing up to 8,300 pounds. The active Magnetic Ride Control suspension does a fine job of isolating passengers from rough patches in the pavement.
You don't have to kick everyone out in order to carry a serious load. The Escalade offers 52 cubic feet of cargo space with the second row in place. Fold it down and you're looking at a commodious 95 cubic feet.
What's to Like About the LX 570?
The silky luxury for which Lexus sedans are known transfers beautifully to LX 570. For something with such rugged DNA, the Lexus is remarkably smooth and quiet. The 5.7-liter V8 delivers 383 horsepower, good enough to get the LX up to 60 mph in 7.3 seconds. It also achieves car-like braking distances and can tow up to 7,000 pounds, although cargo space is nothing special at 83 cubic feet.
All models get full-time four-wheel drive with crawl control, an impressive setup borrowed from the Toyota Land Cruiser. Although gas mileage takes a hit, the LX is better-equipped to tackle off-road obstacles than most large SUVs.
Head to Head
The Escalade offers class-leading interior luxury and style along with powerful acceleration, a combination that's likely to win many fans. The LX 570 is an off-road champ, capable of roughing it like few other luxury vehicles in existence.
Our Verdict: Cadillac Escalade
The prestigious Escalade offers more of what most buyers want in a luxury SUV.
Take a closer look at the Cadillac Escalade »