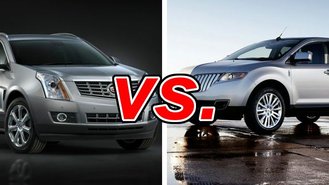 Longtime rivals Cadillac and Lincoln are at it again, although the competitors look a lot different than before. The huge sedans and luxury coupes are gone on both sides, replaced by five-passenger crossovers that can carry furniture and plow through snow.
On paper, the Cadillac SRX and Lincoln MKX seem like peas in a pod; even their names sound the same. The difference, it turns out, is in the details.
See a side-by-side comparison of the SRX & MKX >>
SRX Highlights
Although the SRX shares its platform with lesser GM models, you would never know it without an engineering degree. The exterior has recently been tweaked to exude equal parts sport and beauty. The cabin is loaded with high-tech conveniences and fine materials that seem at once indulgent and durable.
The sole engine is a 3.6-liter V6 with 308 horsepower, which propels the SRX from zero to 60 mph in 7.1 seconds. Handling is more responsive than you might expect in a car of this weight, and the SRX feels balanced and tight around corners. It gives up nothing in the way of ride quality, and in fact rolls just as smoothly as more softly sprung competitors that don't handle as well.
MKX Highlights
With its 3.7-liter 305-horsepower V6, the Lincoln couldn't match the Cadillac's performance more closely if it tried. Buyers also get abundant standard features like leather, keyless ignition and a power liftgate. Interior room is a major selling point, especially in the back, where legroom exceeded our expectations.
The MKX is more about smooth operation than taut handling, although it still performs competently when pressed. On long trips, passengers settle into a silky silence that leaves no doubt about the Lincoln's luxury credentials.
Getting Noticed
Buyers in this segment are looking for more than comfort and competence. They want special transportation that functions as a reward. It's an intangible jewel-like quality that's present in full force in the SRX.
Our Verdict: Cadillac SRX
With genuine style and opulence, the SRX stands out as the more impressive ride.
Take a closer look at the Cadillac SRX >>