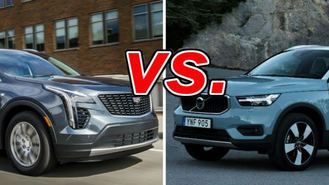 While BMW, Mercedes-Benz, and Audi battle at the top of the compact luxury crossover segment, relative newcomers like the Cadillac XT4 and Volvo XC40 compete for luxury buyers focused more on value than status.
Which of these one-model-year-old subcompact luxury crossovers comes out on top? Find out below.
See a side-by-side comparison of the XT4 & XC40 »
What the XT4 Gets Right
When approaching the Cadillac XT4, its first advantage is evident from a mile away. This is one sharp-looking vehicle thanks to the all-new Cadillac design language. Its sporty front end boasts a large grille flanked by faux vertical air vents and vertical LED daytime running lights. Around back, the style doesn't quit with its L-shaped LED taillights and sharp crease on the liftgate.
This sporty look fades inside the cabin, but it's replaced by a clean and upscale look buyers expect from a luxury crossover. It boasts subtle swoops and curves on its dash, but there's nothing so dramatic it draws your eyes off the road. It also features more cowhide than Old McDonald, a clean HVAC interface, a sharp-looking steering wheel, and more.
The XT4 also boasts a more powerful base engine, as its 2.0-liter turbocharged four-cylinder pumps serious life into this compact crossover to the tune of 237 horsepower and 258 pound-feet of torque. The base XC40 comes up 50 hp and 37 lb-ft of torque short.
What the XC40 Gets Right
While the Volvo XC40 lacks the bold design of the XT4, its clean and organized body is perfect for buyers who want class but hate being noticed. This tidy look continues inside where Volvo carefully matches premium features with a neat design that puts a heavy emphasis on horizontal lines.
Speaking of features, the XC40 crushes it in standard goodies. Its laundry list of compulsory bits includes LED headlights, 18-inch wheels, a 12.3-inch digital gauge cluster, a power driver's seat, a massive 9-inch touchscreen, Apple CarPlay, Android Auto, and more.
Fun features aren't all the XC40 is known for, as it also has all the safety goodies families need. It includes standard automatic emergency braking and lane-keeping assist. The XT4 offers the same features, but they are pricey options.
These standard safety features and strong crash-test ratings add up to an IIHS Top Safety Pick Plus rating for the XC40. The jury is till out on the XT4's crash safety, as the IIHS hasn't completed testing yet.
On top of all this, the XC40 rings in a few thousand bucks cheaper than the XT4, making it an outstanding value.
Want to Stand Out? Go with the Caddy
Cadillac is hitting the styling game hard lately, and the XT4 is a clear example of the automaker looking to carve out a niche in the luxury crossover space. This makes it a great option for buyers who love their car being a conversation piece.
Our Verdict: Volvo XC40
It was a relatively close race between these compact luxury crossovers, but the Volvo XC40 edged out a win thanks to its incredible safety ratings and a long list of upscale features. Add to that a lower base price, and the value baked into the XC40 is enough to draw in buyers from the local Caddy dealer.
Take a closer look at the Cadillac XT4 »