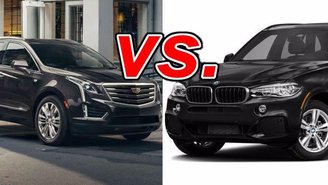 The Cadillac XT5 is an all-new model that replaces the SRX crossover. The XT5 is a midsize luxury crossover with smooth exterior lines and an elegant interior. It brims with fine touches that make it seem more expensive than it really is.
The BMW X5 has been around for many years, but has received regular upgrades and is fully up to date. The exterior features iconic BMW touches, like the brand's signature grille and headlights. On the inside, you'll find plenty of advanced technology and comfort features.
Cadillac has surprised the market with its attractive new XT5, but can it compete with the quality of the BMW X5?
See a side-by-side comparison of the XT5 & X5 »
What the Cadillac XT5 Gets Right
The Cadillac XT5 comes equipped with a 3.6-liter V6 engine, which produces 310 horsepower and 271 pound-feet of torque. The XT5 is constructed on a longer wheelbase than the older SRX. The exterior of the vehicle is complemented with LED lights, a hands-free power liftgate, and 20-inch wheel options. The interior of the XT5 is spacious, luxurious, and filled with useful and advanced features like heated front seats, a rearview camera, and a Driver Awareness package featuring front collision alert, lane keeping assist, and automatic emergency braking. This crossover has everything you would find in a luxury sedan, and performs as well as any.
What the BMW X5 Gets Right
The BMW X5 comes with three engine options: a 3-liter turbocharged six-cylinder with 300 horsepower, a 3-liter, turbodiesel six-cylinder that produces 255 horsepower, and a 4.4-liter V8 engine that generates 445 horsepower. The X5 has always been known for its top-notch quality, and it never lacked in technology either. The interior features wood trim all around, as well as heated seats, a panoramic sunroof, parking sensors, and four-zone automatic climate control. The iconic exterior makes its familiar look desirable, from the headlights and taillights, to the grille and overall shell. When you see a BMW X5, you know you are looking at one of the top choices in this segment.
Can the Cadillac XT5 Compete with the Quality and Reputation of the BMW X5?
Although the Cadillac XT5 seems to get everything right, the BMW X5's quality and durability are simply too much for the XT5.
Our Verdict: BMW X5
The BMW X5 comes with various engine options, numerous comfort features, and some of the best safety ratings around. This crossover is right for just about everyone shopping in this class.
Take a closer look at the BMW X5 >>