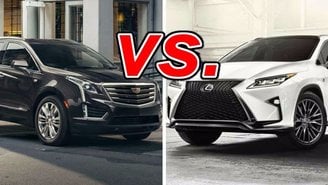 The XT5 is Cadillac's newest model, an attractive crossover with an attractive exterior. The interior is filled with comfort and luxury features, as well as advanced safety technology. This is a tremendously well-rounded vehicle.
The Lexus RX 350 has always been a popular choice in this segment. Its exterior is surrounded by crisp edges, which gives the whole car an aggressive feel. The RX is equipped with all the advanced features and safety technology, which allows it to compete with the best on its market.
The Lexus RX is quite popular, but can it compete with the luxury of the Cadillac XT5?
See a side-by-side comparison of the XT5 & RX 350 »
What the Cadillac XT5 Gets Right
The Cadillac XT5 comes with a 3.6-liter V6 engine, which develops 310 horsepower. The exterior is visually pleasing with its LED running lights, 18- to 20-inch wheels, and all the chrome trim around, making it classy, luxurious, and attractive. The interior is as comfortable and as advanced as a Cadillac should be. Inside the CT5's cabin, you will find features like, heated seats, a rearview camera, a heated steering wheel, and front and rear parking sensors. There are four different trim levels offered (Base, Luxury, Premium Luxury, Platinum), all of which are impressively luxurious.
What the Lexus RX350 Gets Right
The Lexus RX comes equipped with 3.5-liter V6 engine that produces 290 horsepower. The RX received a complete makeover for 2016. The interior features a brand new dashboard, a lowered floor for more comfortable seating, and a bigger cargo area. The RX comes standard with features like a power-adjustable steering wheel, a rearview camera, and a nine-speaker audio system. The exterior wears revised lighting and a new grille, which give the whole car a more aggressive look.
Can the Lexus RX Compete with the XT5's Luxury?
The Lexus RX comes equipped with advanced technology, impressive safety features, and high-quality interior appointments. The Cadillac XT5 may be a tad more luxurious, the RX wins on overall quality.
The Lexus RX remains an all-star player in the luxury crossover field.
Take a closer look at the Cadillac XT5 >>