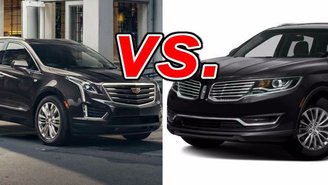 The Cadillac XT5 was introduced to the market in 2017 as a replacement for the compact SRX crossover . It features a smooth exterior, with elegant chrome and body definitions. The interior is as elegant as you would expect a Cadillac to be. This car raises the bar on the competition.
The Lincoln MKX was completely redesigned in 2016 and carries into 2017 unchanged. The new and improved MKX is visually appealing and offers plenty of advanced features, inside and out. This car feels like a vehicle from the future.
The Lincoln MKX is extremely popular, but can it match the luxury the Cadillac XT5 brings?
See a side-by-side comparison of the XT5 & MKX »
What the XT5 Gets Right
The Cadillac XT5 comes equipped with a 3.6-liter V6 engine, which develops 310 horsepower and 271 pound-feet of torque. The exterior features long, smooth lines, which are complemented by aggressive styling details. The result is the perfect blend of luxury and sport. When purchasing an XT5, you will have various wheel options, ranging from 18 to 20 inches. This Cadillac is filled with some of the most advanced features on the market, from a high resolution backup camera, to automatic braking and lane keeping assist.
What the MKX Gets Right
The Lincoln MKX comes with two engine options: a 3.7-liter V6, which produces 303 horsepower, and a 2.7-liter Ecoboost V6 engine, which develops 330 horsepower. The MKX comes with all the luxury features you could want, including heated seats, power-folding mirrors, wood trim, and a panoramic sunroof. As for safety, the MKX has it all, from a rearview camera and blind spot monitoring to rear cross-traffic alert. This car is comfortable, safe, and extremely attractive.
Can the Lincoln MKX Match the Luxury of the Cadillac XT5?
The quality, performance, and overall value of both of these cars are rather close. However, the Cadillac takes a slight edge in technology and luxury, and it's clearly a better overall value.
The Cadillac XT5 is the ultimate luxury crossover SUV. It features nothing but the best when it comes to comfort and convenience. This car will leave you smiling each time you sit behind the wheel, or anywhere in the cabin for that matter.
Take a closer look at the Lincoln MKZ >>