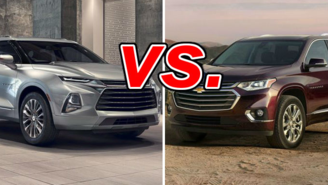 Years ago, the Blazer nameplate referred to a rugged body-on-frame SUV. Chevrolet has brought back the name, but the 2019 Chevy Blazer bears little resemblance to its forebears. Instead, the new Blazer is a stylish (and trendy) mid-size crossover. The full-size Chevy Traverse is close enough in price to the Blazer to make buyers think twice, but which crossover is worth the cash?
See a side-by-side comparison of the Blazer & Traverse »
What the Blazer Gets Right
The Blazer's advantages start with price. It undercuts the Traverse by over $1,000 and manages to keep starting price (after destination fees) just barely under $30,000.
For the price, it's the newer and trendier package. The overlapping rear pillar makes for a contemporary look, and the Blazer is a nicer size for navigating urban parking lots.
In fact, the Blazer is nicer to handle just about anywhere. Thanks to a smaller footprint and lighter weight, the Blazer enjoys crisper handling and less body roll than the Traverse.
Finally, with its base four-cylinder engine, the Blazer is the more economical of the two. The Blazer achieves an EPA-estimated 22 miles per gallon city, 27 mpg highway, and 24 combined, compared to 18/27/21 mpg (city/highway/combined) for the Traverse.
What the Traverse Gets Right
The Traverse's most obvious advantages come in the form of extra space. To begin with, it has a third row, which expands seating from five to seven. It's comfortable enough for most adults, too.
With the third row folded, the Traverse can fit more than 58 cubic feet of cargo. That's nearly double what the Blazer can fit behind its second row.
And while the Blazer is cheaper to start, every Traverse gets a more powerful V6 engine. This means a better towing capacity as well (5,000 pounds to the Blazer's 4,500).
In fact, once both all-wheel drive and the V6 are equipped, the Blazer gets more expensive than the Traverse. For some buyers, this makes the decision an easy one.
Which New Crossover Reigns Supreme?
Both these cars debuted in the last two years. Their relative advantages and disadvantages are fairly clear. The Blazer offers a smaller and more economical package. It doesn't have the space of the Traverse, but it handles better and wins out on gas mileage. The Traverse offers a third row, more utility, and a standard V6. Especially once all-wheel drive is in the picture, it's arguably the better value as well.
Our Verdict: Chevrolet Traverse
Both of these crossovers are capable, but the Traverse better fills its role. The Blazer is too close to the Traverse in price and too far from it in size to make it a really compelling value. The Traverse is everything a family could need: practical, comfortable, and spacious. Legacy nameplate or no, it's the winner for us.
Take a closer look at the Chevrolet Blazer »