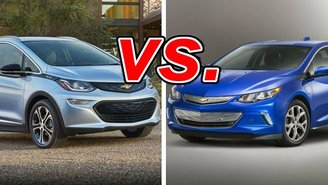 The green-car battle continues to heat up. While there are plenty of EVs and hybrids to choose from, General Motors has its own inner-brand competition between the Chevrolet Volt and the Chevrolet Bolt EV.
The Volt was Chevy's first entry into the plug-in range-extended EV market, giving buyers a healthy all-electric range and a gasoline engine that gives it the flexibility of running in hybrid mode. The Volt, which is new for 2017, is the first mass-market, affordable EV with a 200-plus-mile range.
What makes a better buy for the average consumer: flexibility or a longer EV range? Keep reading to find out.
See a side-by-side comparison of the Bolt EV & Volt »
What the Bolt EV Gets Right
The Bolt EV's powertrain gives it an immediate advantage over its Volt cousin, as its electric drivetrain and batteries offer up to 238 miles of range on a single charge, making longer commutes possible without a drop of gasoline. On top of being thrifty, this electric powertrain produces 200 horsepower and 266 pound-feet of torque and zips the Bolt EV to 60 mph in less than seven seconds – the Volt takes more than eight seconds to hit highway speeds.
Inside, the Bolt EV provides a little more room for rear-seat passengers, thanks to its 37.9 inches of rear headroom and 36.5 inches of rear leg room. These number best the Volt by 2.1 inches and 1.8 inches, respectively. The Bolt EV's hatchback design also gives it the upper hand in cargo room, with its 16.9 cubic feet beating the Volt by 6.3 cubes.
Inside, buyers will also find lots of storage cubbies, far better visibility than the Volt, and a crisp 10.2-inch touchscreen display.
What the Volt Gets Right
The Volt is easier on buyers' budgets, giving it a quick one-up on the Bolt EV. It starts from $34,095 ($875 destination fee included, before $7,400 tax credit) to the Bolt EV's $39,295 ($875 destination fee included, before $7,500 tax credit) base price. In fact, buyers could even jump into the better-equipped Premier trim and still save $850 compared to the base Bolt EV.
The Volt's swoopy design may be more attractive to some buyers than the Bolt EV's almost economy-car-like design. Inside, buyers are also sure to like the Volt's more intuitive and higher-quality interior.
While the Volt's 53-mile electric range can't match the Bolt EV, it has the added benefit of also running on gasoline (not to mention the shorter charge time inherent in a smaller battery). This eliminates any range anxiety on longer trips while still providing green driving on shorter hauls. Should the driver drain the battery, the Volt's hybrid mode is surprisingly efficient at 42 miles per gallon combined.
Bolt EV Falls Just Short
The Bolt EV is an amazing vehicle – it finally brings a 200-plus-mile electric range within reach of the average buyer. But, the Volt is the better buy by a slim margin. That said, the Bolt EV is a great buy for those who need more interior room, aren't deterred by charging times, and have an issue with cars with limited visibility.
Verdict: Chevrolet Volt
The Volt gets through this head-to-head competition battered and bruised, but it's victorious nonetheless. Its 53-mile EV range covers the average commute to and from work, and the ability to run as a hybrid makes it a more flexible option for longer drives. Add in its sleeker looks and more attractive cabin, and we have a winner: the Volt.
Take a closer look at the Chevrolet Bolt EV »