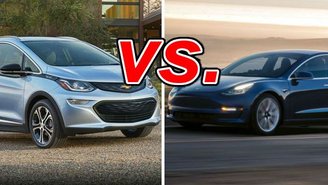 Chevrolet brought electric power into the mainstream last year with the introduction the Bolt EV. It was the first long-range EV priced within reach of the average buyer. Now the Bolt has some competition from the all-new Tesla Model 3, which delivers the brand's impressive technology without the hefty price tag of a Model S.
Has the Model 3 usurped the Bolt's position as the anxiety-free EV for the masses? Let's find out.
See a side-by-side comparison of the Bolt EV & Model 3 »
What the Bolt Gets Right
Electric cars haven't been known for their performance, but that's starting to change in a big way. The Bolt's motor serves up 200 horsepower and 266 lb-feet torque, enough for it to out-accelerate most gas-powered hatchbacks. The single-speed transmission features a Drive mode that mimics the behavior of a conventional automatic. The best part? The Bolt is rated to travel up to 238 miles on a single charge.
A full recharge takes 9 hours on a 240-volt charger. We recommend getting the optional DC fast charging option, which allows owners to access the still-growing network of DC fast charger. These publicly available setups – i.e. not available at home – can provide 90 miles of range in just 30 minutes.
Inside, the Bolt offers abundant headroom and a virtually flat floor. Cargo space reaches 56.6 cubic feet with the rear seat folded.
What the Model 3 Gets Right
The rear-drive Model 3 starts out with a 258-hp electric motor that provides up to 220 miles of travel. For buyers that don't mind paying $9,000 extra, the Long Range version delivers 271 hp and a range of 310 miles. Either way, the Model 3 packs an impressive combination of power and range.
Recharging the lithium-ion battery requires 8 hours on a 240-volt home charger. Owners can charge for free at one of Tesla's Supercharger Stations, where restoring the battery to 80 percent capacity takes 30 minutes.
Despite its futuristic design, the Model 3 has the interior dimensions and trunk space of a traditional family sedan. The standard glass roof and minimalist dashboard contribute to a feeling of spaciousness all around.
More Than Efficiency
Neither car relies solely on its gas-free technology to woo buyers. The Bolt's second-best attribute is its sheer practicality. There's really no need for a crossover when a hatchback can be so versatile. The Model 3 goes in the opposite direction, evoking an emotional response with striking aesthetics inside and out.
Our Verdict: Tesla Model 3
The Model 3's exotic personality is just too enticing for the Bolt to overcome.
Take a closer look at the Chevrolet Bolt EV »