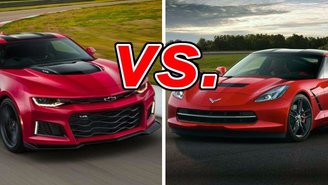 Both of Chevrolet's performance coupes are legends in their own right. The Camaro has won legions of followers with its tough looks, raw power, and accessible price. The Corvette enjoys a reputation as the ultimate American sports car: a sexy two-seater that combines daring design with track-worthy moves.
Buyers who take performance seriously will walk away impressed by either of these machines. But which one comes closer to our idea of high-speed perfection?
See a side-by-side comparison of the Corvette & Camaro »
What the Camaro Gets Right
Available as a coupe or soft-top convertible, the Camaro comes standard with a turbocharged, 2.0-liter four-cylinder that delivers a robust 275 horsepower. That's enough to make the base model appropriately quick, while earning up to 31 mpg on the highway, according to the EPA. The optional 3.6-liter V6 gives the Camaro a boost to 335 horsepower. SS models receive a mighty 6.2-liter V8 with 455 horsepower. At the top of the lineup, the ZL1 packs a supercharged 6.2-liter that lays down 650 horsepower. All engines come standard with a six-speed manual transmission. A six-speed automatic is optional on all models except the ZL1, which can get a special 10-speed automatic.
Buyers looking for a sporty personal car will be satisfied with either the four-cylinder turbo or V6 engine. The SS is a good fit for traditional muscle car fans and buyers who aren't concerned with efficiency. The exclusive ZL1 is a serious performance car that's designed for competitive driving. Buyers with racing ambitions will love the ZL1, but it feels like overkill on ordinary roads. A track-focused 1LE trim, available on the V6 and SS, strikes a nice middle ground between daily livability and the ZL1's circuit-ready performance.
What the Corvette Gets Right
The Corvette's mouth-watering body and high-tech cockpit can produce chills before the driver even turns the key. Under the vented hood is a 6.2-liter V8 good for 455 horsepower and 460 pound-feet of torque. A seven-speed manual transmission with active rev matching comes standard, and an eight-speed automatic is optional. The line-topping Z06 model shares the Camaro ZL1's supercharged, 6.2-liter, 650-hp V8. All versions of the Corvette are available in coupe or convertible form.
We expected the Corvette to go fast and grip the road with gusto, but its civilized side came as a pleasant surprise. The seats are remarkably comfortable, even after hours of driving. The adaptive suspension allows the driver to soften the ride for highway travel or leisurely touring, making the Corvette easy to live with on a daily basis, despite its ferocious performance potential.
The Best of Both
With its choice of engines and handling hardware, the Camaro can be driven and enjoyed by all types of drivers. Those who aren't interested in jaw-dropping performance don't have to pay for it, but it's readily available to those who can't live without it. The Corvette comes ready to rumble right out of the box, but its appeal doesn't end there. Buyers also get a relaxing interior and refined road manners for days away from the track.
Our Verdict: Chevrolet Corvette
Fast and sophisticated, the Corvette gives drivers more to love than just performance.
Take a closer look at the Chevrolet Corvette »