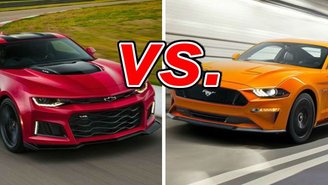 The Chevrolet Camaro and Ford Mustang start out as charismatic sport coupes than can be driven and enjoyed by just about any driver. With the right hardware in place, they transform into supercars with overwhelming performance for the money. Whatever personality buyers choose, they're getting a bold, muscular machine with the potential to excite. It's hard to pick a winner between two bona fide legends, but that's not going to stop us from trying.
See a side-by-side comparison of the Camaro & Mustang »
What the Camaro Gets Right
Available in coupe or soft-top convertible form, the Camaro comes standard with a 2.0-liter four-cylinder turbo. The engine is mighty for its size, generating 275 horsepower and 295 pound-feet of torque. This makes the base Camaro quick, but not thirsty. Buyers can expect 25 miles per gallon combined, according to the EPA.
The optional 3.6-liter V6 produces slightly less torque, but delivers 335 hp for rambunctious takeoffs. Efficiency is quite respectable at 23 mpg combined.
SS models carry a rumbling 6.2-liter V8 with 455 hp and 455 lb-ft of torque, EPA-rated at 20 mpg combined. At the top of the heap, the Camaro ZL1 receives a supercharged version of the 6.2-liter that boasts 650 hp and 650 lb-ft of torque. As expected, efficiency slips to about 16 mpg combined.
All Camaros are rear-wheel drive and come standard with a six-speed manual transmission. A six-speed automatic is optional on all models except the ZL1, which can get a special 10-speed automatic.
What the Mustang Gets Right
Ford no longer offers a V6 engine in the Mustang, which is just as well since the standard four-cylinder has become more potent. The 2.3-liter EcoBoost turbo now makes 310 hp and 350 lb-ft of torque. Traditional Mustang fans will of course prefer the GT's 5.0-liter V8, which is also stronger this year. It's good for 460 hp and 420 lb-ft of torque. Both engines come with a six-speed manual transmission or a newly optional 10-speed automatic. According to the EPA, EcoBoost models deliver up to 25 mpg combined, while the GT is rated at 19 mpg combined.
This year's magnetic suspension system is a worthy option. It sharpens the Mustang's reflexes while actually enhancing ride comfort. Like the Camaro, the Mustang is strictly a rear-driver and comes in coupe and convertible body styles.
For buyers in the mood for a street-legal racer, Ford serves up the limited-production Shelby GT350. It comes exclusively with a 5.2-liter V8 (526 hp and 429 lb-ft of torque) and the six-speed manual.
What's Your Pleasure?
The Camaro comes off as the ultimate bruiser, a true muscle car if there ever was one. It can excite and frighten at the same time, and that's what makes it so intriguing.
The Mustang is a good-natured athlete by comparison. It's not so rough around the edges, and doesn't get intimidating until provoked. Think of it as a beast that behaves well on leash.
Our Verdict: Ford Mustang
The Mustang loves to have fun without getting out of hand.
Take a closer look at the Chevrolet Camaro »