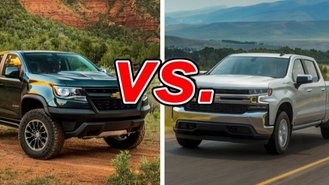 As two top sellers of one of America's favorite pickup makers, the Chevrolet Colorado and Silverado 1500 have much to live up to. The Chevrolet Silverado 1500 benefitted from a full redesign in 2019, while the Colorado soldiers into its eighth year on the market.
We put the two head-to-head to declare a winner. Here are the results:
See a side-by-side comparison of the Chevrolet Colorado & the Chevrolet Silverado 1500 »
What the Colorado Gets Right
The Chevy Colorado's biggest advantages are versatility and value. In most body and drive configurations, the Colorado starts around $8,000 under the Silverado 1500. Even with the optional 3.6-liter V6, the Colorado is relatively affordable at around $30,000.
Most buyers opt for that V6, which cranks out a respectable 308 horsepower. Towing capacity is a decent 7,000 pounds, which is all many buyers need.
For off-road warriors, the Colorado ZR2 is a worthy trail rider. The raised suspension and limited-slip differential are remarkably capable, and the ZR2 trim is substantially cheaper than the equivalent Silverado 1500 model (Trail Boss).
In many other respects, the Colorado keeps up with its big sibling nicely. It gets the same 7- or 8-inch touchscreen inside, and the squared-off exterior design has aged well.
What the Silverado 1500 Gets Right
As the full-size truck, the Chevy Silverado 1500 has a size advantage over the Colorado. Especially with a Crew Cab, the Silverado 1500 provides a much more spacious cabin. The beds are longer in every configuration.
To motivate all the extra size, the Silverado 1500 gets a more powerful range of engines. The lineup covers all the bases, from a confident turbocharged four-cylinder to massive V8s to a thrifty turbodiesel. As you'd expect, the Silverado 1500's maximum towing capacity of 13,400 pounds handily outclasses the Colorado.
In a surprise win, the Silverado 1500 comes out ahead on fuel economy. The turbodiesel manages a shocking 27 miles per gallon combined, and even the base 2.7-liter turbo engine gets 21 mpg combined. For a full-size pickup, these are good numbers.
How Much Truck?
Deciding between these two pickup trucks is a relatively simple question of size and value. For buyers who don't need to carry a family or tow 10,000 pounds, the Colorado will do the job nicely. Those who need the extra size and grunt won't be disappointed in the Silverado 1500.
Our Verdict: Chevrolet Silverado 1500
The Chevy Colorado plays its role well, but a newer design and a range of powerful engines give the Chevy Silverado 1500 the nod in this comparison. It doesn't do luxury quite as well as its GMC equivalent, but the Silverado 1500 is a reliable (and surprisingly efficient) choice for everyday duty.
Take a closer look at the Chevrolet Colorado »