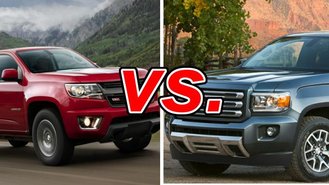 Buyers are snapping up GM's reborn midsize pickups about as fast as the factory can churn them out. Their instant popularity isn't too surprising considering that the Chevrolet Colorado and GMC Canyon are the first all-new vehicles of their kind in a decade. While they're mechanically identical, we would stop short of calling them twins. There's enough difference to merit a comparison of personalities.
See a side-by-side comparison of the Colorado & Canyon »
Where the Colorado Shines
The Colorado doesn't just look different (and better) than before -- it's a completely new truck from the tires up. The whole affair, especially the interior, feels quite refined this time around, devoid of the plain-Jane materials and jostling motions you might expect of a truck in this price class. You also get plenty of car-like conveniences and easy handling in urban traffic.
The standard 2.5-liter four-cylinder engine produces 200 horsepower, which should be enough for everyday driving and light hauling. The available 3.6-liter V6 delivers a stout 305 horsepower and allows the Canyon to tow up to 7,000 pounds.
See more truck comparisons here »
What's Different About the Canyon
The GMC departs from its Chevy cousin when it comes to subjective measures like trim, image and overall packaging. The Canyon gets its own styling details and a few bits of extra equipment, a difference that continues as you move through the trim levels. For example, the line-topping SLE comes standard with things like leather seating, 18-inch polished aluminum wheels and remote start. There is no equivalent trim level in the Colorado lineup. Buyers have already demonstrated that they don't mind paying a bit more for the Canyon. Demand has outstripped supply from the start.
What Matters to You?
The Colorado certainly has the edge when it comes to value, especially when you take into account its wider availability. Tight supplies of the Canyon have kept prices relatively high. Even so, if you want a level of luxury comparable to that of full-size pickups -- or simply like to stand out from the crowd -- the Canyon will serve you much better.
Our Verdict: GMC Canyon
The Chevy deserves the throngs of customers it will undoubtedly get, but the GMC achieves a certain level of exclusivity, something you don't usually get in this class. That alone makes the Canyon more desirable to our eyes.
Take a closer look at the Chevrolet Colorado »