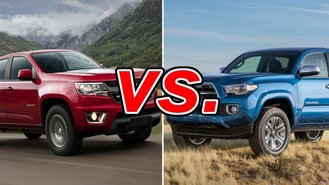 Chevrolet is back in the midsize pickup business with the Colorado, a midsize model that had been on hiatus before a redesign. While the old truck didn't mount a serious challenge to class leaders like the Toyota Tacoma, the reborn Chevy represents a leap forward in almost every measure.
The Tacoma isn't just rolling over and conceding defeat, as it entered 2016 with an all-new body and revised powertrain. Was this redesign enough to bring the Tacoma back to the top of the midsize truck heap?
See a side-by-side comparison of the Colorado and Tacoma »
Today's Colorado follows the same design theme as Chevy's full-size Silverado line. The rig looks the part of a rugged American pickup, even if it's not intended for heavy-duty work. The engineers paid extra attention to ride and handling this time around; both are far more civilized than you might expect in a truck of this size. The same can be said of the interior, which is refined enough to make you forget you're riding in what is essentially an entry-level pickup.
The standard 2.5-liter four-cylinder engine develops 200 horsepower, robust output for a base engine in this class. Stepping up to the available 3.6-liter V6 gets you a mighty 308 horsepower and the ability to tow up to 7,000 pounds. The class-exclusive 2.8-liter Duramax diesel engine adds a new twist to this segment with 181 horsepower and 369 pound-feet of torque, allowing the Colorado to easily tug up to 7,700 pounds and get up to 29 mpg highway.
The Tacoma has impressed us over the years with its quality and reliability, virtues that remain in full force in the redesigned 2016 model. When it comes to off-road adventure, the TRD Off Road and TRD Pro versions of the Tacoma rank as some of the most capable pickups of any size, while the TRD Sport offers a level of performance that the Tacoma has never seen.
With the Tacoma also comes Toyota's legendary reliability that is sure to be the deciding factor for some buyers.
Which Stands Out?
The Tacoma is a long-running favorite that promises durability and hassle-free motoring over the long haul. The Colorado doesn't enjoy that kind of reputation yet, but is clearly ahead of the pack in terms of performance and polish.
Our Verdict: Chevrolet Colorado
The Colorado is poised to become the new benchmark of its class, and the new Duramax diesel engine solidifies this point.
Take a closer look at the Chevrolet Colorado >>