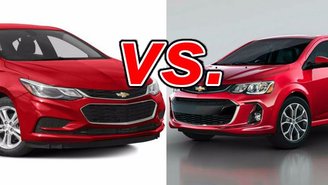 Chevrolet's senior compact, the Cruze offers impressive efficiency and enough interior room to accommodate small families. The smaller Sonic isn't so spacious inside, but delivers impressive performance for the money.
Both are pleasant small cars with plenty of features and a touch of sportiness. Does that make them equal? Not exactly. One goes the extra mile to win over buyers.
See a side-by-side comparison of the Cruze & Sonic »
What the Cruze Gets Right
Chevy redesigned the Cruze sedan last year, giving it greater visual identity and a more inviting interior. A hatchback version joins the lineup this year, offering up to 47.2 cubic feet of cargo space. Rear seat room approaches midsize levels, and certainly surpasses most compacts.
The Cruze starts out with a 1.4-liter four-cylinder turbo that produces 153 horsepower. A six-speed manual transmission comes standard, but most buyers choose the optional six-speed automatic. The Cruze gets up to 34 miles per gallon in combined city and highway driving, according to the EPA.
The optional 1.6-liter turbodiesel engine puts out 137 horsepower and boosts efficiency to 37 mpg combined, although that figure belies an impressive 52-mpg highway rating. The turbodiesel is available on the sedan for now. It will make its way into the hatchback next year.
What the Sonic Gets Right
The Sonic also comes in sedan and hatchback form. The latter can hold up to 47.7 cubic feet of cargo, about as much as the smallest crossovers. Despite its economical price, the Sonic comes standard with features like automatic headlamps, Bluetooth audio, and a seven-inch infotainment touchscreen.
There's certainly nothing downscale about how the Sonic handles. The steering is quick, with good feel and just the right mount of assist. The smaller Chevy stays planted when the pavement turns rough, soaking up bumps like a much heavier vehicle.
The 1.8-liter four-cylinder engine delivers 138 hp and up to 30 mpg in combined driving, while the optional 1.4-liter turbo increases efficiency to 32 mpg combined and provides more torque for faster take-offs.
Why Buy the Cruze if the Sonic Costs Less?
We admire how well the Sonic performs, especially with the turbocharged engine. The Cruze offers a similar level of driving enjoyment, plus a larger interior and even better efficiency. These are key benefits that most buyers will be happy to pay a little extra for.
Our Verdict: Chevrolet Cruze
Efficient and roomy, the Cruze doesn't require any compromises.
Take a closer look at the Chevrolet Cruze »