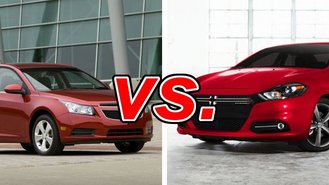 Everyone likes the efficiency and maneuverability of compacts, but the same can't be said of attributes like room and appointments. For buyers worried that small cars require too much compromise, we present the Chevrolet Cruze and Dodge Dart, two sedans that stretch the boundaries of their class to deliver legitimate comfort and poise. Which example of not-so-compact motoring impresses us more?
See a side-by-side comparison of the Cruze & Dart >>
Where the Cruze Shines
For a couple of years now, the Cruze has been quietly demonstrating that Chevy can build a high-quality, affordable compact. It might not be big enough to qualify as a family car, but its quality and features are right up there with larger sedans, as is the generous trunk. Buyers also get roadworthy handling coupled with a pleasant ride. The sport-tuned suspension on the upper trims is on the firm side, but makes the Cruze markedly more athletic without disturbing ride comfort.
The base Cruze runs with a 1.8-liter four-cylinder with 138 horsepower, but most versions carry a 1.4-liter turbo that delivers more torque and slightly better fuel economy. Eco versions of the Cruze are good for 42 mpg on the highway. There's also a new 2-liter turbo-diesel that generates 151 horsepower and reaches 46 mpg.
Where the Dart Shines
Though officially compact, the Dart is longer and wider than nearly all of its competitors. Buyers stepping down from a midsize car will notice little difference from behind the wheel. The extra mass pays off in the form of exceptional rear-seat comfort and a substantial feel when cruising down the road. The lively interior is easily one of the nicest in this class, with a look and feel that's indistinguishable from many higher-priced sedans.
The Dart's 2-liter four-cylinder produces 160 horsepower and returns 29 mpg in combined driving with the standard six-speed manual. The optional 1.4-liter turbo delivers the same horsepower, but substantially more torque for swifter pickup, not to mention a few more mpg. GT models get a 2.4-liter four-cylinder with 184 horsepower, which puts it in contention with other sporty compacts.
The Best of Both
The Cruze offers an admirable combination of performance and efficiency along with impressive room for a small passenger car. With ample size and an inviting interior, the Dart is an excellent choice for buyers who aren't necessarily fond of small cars.
Our Verdict: Chevrolet Cruze
The Chevy moves with surprising gusto while doing everything else right.
Take a closer look at the Chevrolet Cruze >>