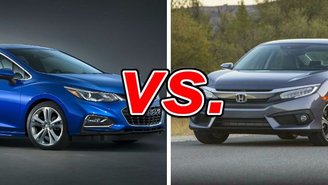 Outside of the Cavalier, Chevrolet's small cars have not had the greatest of success in the past. The Cruze, however, has been a relative success story for Chevy as its sales hover near the top of its segment each month.
The Honda Civic, on the other hand, has been a perennial bestseller with only the Corolla threatening its position at the top of the sales heap.
Both cars underwent significant overhauls in 2016 and both gain new hatchback versions in 2017, but which is the best car for the money?
See a side-by-side comparison of the Cruze & Civic >>
What the Cruze Gets Right
What the Cruze lacks in size and cargo-hauling capabilities, it makes up for in quality, available tech features, and pricing. Buyers also get competent handling coupled with a pleasant ride. The sport-tuned suspension on the upper trims is on the firm side, but the impact on riding comfort is minimal.
The Cruze comes equipped with a 1.4-liter turbocharged engine that nears the base Civic's output at 153 horsepower while turning in a thrifty 33 mpg combined. While this fuel economy can't match that of the 1.5-liter-equipped Civic, it does best its base 2-liter.
For 2017 Chevy has added a new hatchback variant of its Cruze, which will help it better match up against the new five-door Civic.
What the Civic Gets Right
The 10th-gen Civic boasts a larger footprint and cabin that pushes it into the midsize segment—the Cruze is considered a compact per the EPA. This larger cabin boasts just over an inch more rear-seat legroom and shoulder room, and 5 cubic feet more cargo room. What's more, all of this extra room comes in spite of the Civic actually being more than an inch shorter in length relative to the Cruze.
The Civic's base powertrain is about on par with the Cruze but its optional 1.5-liter turbocharged unit pushes the power to 174 horsepower while turning in up to 35 mpg combined. Opting for the new Civic Hatchback tosses in the option of a Sport Touring trim that includes a 180-horsepower 1.5-liter engine.
See more sedan comparisons here »
The Cruze Still Has its Place
The Chevrolet Cruze, while not on par with the 10th iteration of the Civic, is still a great compact option. Its price is right, the features are plentiful, and its performance is decent. It is perfect for a younger buyer looking to save a little money without compromising on quality.
Our Verdict: Honda Civic
The Civic's new look and roomier cabin are welcome additions at this price point. Sure, it is slightly pricier than the Cruze, but its larger cabin, addition cargo room, and the added versatility of the hatchback body makes it well worth the extra scratch.
Take a closer look at the Chevrolet Cruze >>