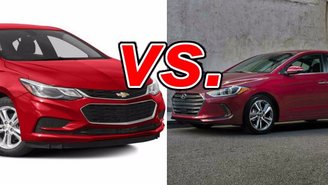 Modestly priced sedans with good gas mileage are nothing new. Chevrolet and Hyundai have been cranking them out for years. But unlike their previous high-volume small midsizes and compacts, the current Cruze and Elantra don't require buyers to make a raft of concessions.
See a side-by-side comparison of the Cruze & Elantra >>
These are cars consumers should want to buy, not settle for. But which one impresses us more?
What the Cruze Gets Right
Although the Cruze isn't big enough to be a true family car, its quality and features are right up there with larger sedans. Buyers also get competent handling coupled with a pleasant ride. The sport-tuned suspension on the upper trims is on the firm side, but the impact on riding comfort is minimal. In terms of overall consumer appeal, the Cruze ranks just as highly as the best-known imported compacts.
The Cruze recently received a restyled appearance that gives it a more premium appearance than ever before. Despite having slightly less overall passenger volume, leading to the EPA still classifying it as a compact, the Cruze actually has more front and rear legroom, and hip room than the Elantra. Additionally, bumping up to the new Cruze Hatch gives the Chevy a rival to the Elantra GT.
The base Cruze runs with a base 1.4-liter turbo that delivers 153 horsepower and slightly better fuel economy (up to 34 mpg combined) than the base Elantra.
What We Like About the Elantra
The Elantra gets an all-new look that is more European and sleek than ever before. With this also comes a larger body that allows for more overall passenger volume and a ton more cargo room than most of its competitors.
The new look also brings in a handful of new engines, including a 147-horsepower 2-liter base engine, a 128-horsepower 1.4-liter that delivers up to 35 mpg combined, and a 1.6-liter turbo with a respectable 200 horsepower. The last engine is part of the Sport trim level, which also includes a sportier suspension and steering system.
The new Elantra also received a Top Safety Pick+ rating, making it one of the safest cars in its class. Combine that with an industry-leading warranty and buyers get a lot of peace of mind with the Elantra.
Almost too Close to Call
These two models are about as close as they come. Both offer ample space for their classes, great fuel economy, and amazing prices. The Cruze just comes up a little short in the powertrain-options department.
Our Verdict: Hyundai Elantra
The Elantra and Cruze are both great cars, but the Hyundai's powertrain options are just too much for the Cruze to handle.
Take a closer look at the Chevrolet Cruze >>