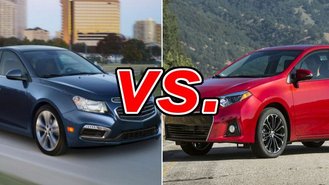 For a couple of years now, the Chevrolet Cruze has been quietly demonstrating that Chevy can build an affordable compact that doesn't require compromises, and a redesign in 2016 adds an exclamation point to this. Of course, the Corolla has been a rolling testament to Toyota's prowess in this class for more than 40 years.
See a side-by-side comparison of the Cruze & Corolla »
Which of these competent sedans makes a stronger play for buyers' attention?
Praise for the Cruze
With its 2016 redesign, which makes the Cruze larger than ever, it is close than before to being a true family car. What's more, its upscale features and generous trunk make it feel substantial. Buyers also get roadworthy handling coupled with a pleasant ride. The sport-tuned suspension on the upper trims is on the firm side, but makes the Cruze markedly more athletic without disturbing ride comfort.
With the redesign also comes the introduction of a new standard 1.4-liter tubocharged four-cylinder engine with 153 horsepower and am outstanding 177 pound-feet of twist. This engine nets the sedan an EPA rating of up to 42 mpg in its Eco trim. There will also be a new 2-liter turbo-diesel that joins the redesigned sedan in 2017, which is sure to deliver a few more miles per gallon and a little more torque than the 1.4-liter.
Corolla Highlights
The Corolla carries a whole different look from a 2014 redesign, highlighted by a wide lower grille and 4 inches of extra length. It's also slightly lower and wider for a tauter, more athletic appearance. The Corolla was always a smooth and quiet performer, and now there's more room in back and improved seat padding to keep passengers comfortable. Despite the Corolla's growth, weight gain is minimal thanks to extensive use of high-strength steel in body components.
The 1.8-liter four-cylinder with 132 horsepower carries over, but is joined by a new continuously variable transmission (CVT) on all but the base model. The LE Eco variant combines the CVT with low-rolling-resistance tires to achieve 40 mpg on the highway.
Are They Equals?
The Cruze offers an admirable combination of performance and efficiency along with impressive room for a small passenger car. The Corolla doesn't move with as much gusto, but ranks high in comfort and everyday drivability.
Our Verdict: Chevrolet Cruze
All things considered, the Cruze's sportier flavor makes it a more compelling choice.
Take a closer look at the Chevrolet Cruze »