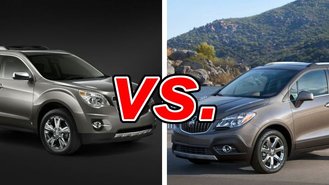 With technological advances, increased performance, better fuel efficiency and enhanced styling, it is quite clear that General Motors maintains a strong commitment to the crossover SUV. But the Chevrolet Equinox and Buick Encore interpret this in different ways.
See a side-by-side comparison of the Equinox & Encore >>
The Encore is much newer, having entered the market in 2013, while the Equinox -- a Chevrolet staple since 2005 -- is currently in its second generation. They may share some attributes in common, but these two crossovers are worlds apart.
What the Chevrolet Equinox Gets Right
While most automakers are downsizing engines to achieve better fuel efficiency, Chevrolet is ramping up Equinox power with an available 3.6-liter V6 that delivers a best-in-class output of 301 horsepower. When equipped with the V6, it offers impressive acceleration.
But the Equinox is also heavy, weighing much more than its competitors -- for better and worse. It's also spacious: The sliding rear seat gives passengers more legroom than other crossovers.
What the Buick Encore Gets Right
Probably the sportiest Buick available today, the Encore retains distinctly Buick design cues like a waterfall grille and portholes on the hood. The latter no longer denote six or eight cylinders under the hood, though: A 1.4-liter turbocharged engine, mated to a six-speed automatic transmission, powers the Encore.
With its small size and peppy power plant, the Encore is quick and nimble, navigating crowded city streets with ease. Its available all-wheel drive also makes it at home in rural settings.
With So Many Similar Features, Does One Crossover Outshine the Other?
Although these two crossovers both come from General Motors, they have reached U.S. showrooms from different paths. The Encore is the result of a global effort and may have more worldwide appeal. The current Equinox, meanwhile, is designed specifically for a North American audience.
Where the Equinox may appeal to the more practical buyer, the Encore clearly targets the buyer who values a sporty experience with a little extra luxury.
Our Verdict: Chevrolet Equinox
The option of a more powerful V6 makes the Equinox our choice in this comparison.
Take a closer look at the Chevrolet Equinox >>