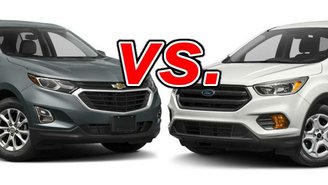 After nearly a decade on the market with minimal changes, the Chevrolet Equinox has been redesigned from the ground up with emphasis on efficiency and technology. It's Chevy's strongest competitor yet to the Ford Escape, long regarded as a top choice among compact crossovers.
Does the all-new Equinox now have an advantage over the familiar Escape?
See a side-by-side comparison of the Equinox & Escape »
What the Equinox Gets Right
The Equinox remains one of the more comfort-tuned vehicles in this class, providing a relaxing ride, quiet interior, and enough room for five passengers to enjoy it all. It's still a compact, but feels substantial from behind the wheel. Buyers get 29.9 cubic feet of cargo space behind the rear seat and 63.5 cubic feet with it folded, which is nearly identical to previous years. The Equinox packs more safety and infotainment technology this time around (both standard and optional) and all-new turbocharged engines.
The roster starts with a 1.5-liter turbocharged four-cylinder with 170 horsepower and 203 lb-ft of torque, matched to a six-speed automatic transmission. Efficiency has improved to an EPA-estimated 28 miles per gallon in combined city and highway driving, or 26 mpg with all-wheel drive.
The optional 2.0-liter turbo delivers 252 hp and 260 lb-ft of torque, and comes with a new nine-speed automatic. The 2.0-liter returns an estimated 25 mpg combined, or 24 mpg with all-wheel drive, a substantial increase over last year's V6 engine.
For efficiency-minded buyers, Chevy offers a 1.6-liter turbodiesel four-cylinder with 137 hp and 240 lb-ft of torque. With the turbodiesel installed, the Equinox achieves a hybrid-like 32 mpg combined, even with all-wheel drive.
What the Escape Gets Right
The current Escape debuted back in 2013, but regular tweaks to its already-expressive styling have kept it up with the times. Interior materials are cut above what we expect in this class, and everything fits together exceptionally well. Handling remains a strong suit. The Escape's quick reflexes are easy to appreciate in everyday driving.
The Escape can handle five adults, along with 34 cubic feet of cargo. With the rear seat folded, capacity doubles 68 cubic feet.
Front-drive models come standard with a 2.5-liter four-cylinder engine that makes 168 horsepower and 170 pound-feet of torque. Most buyers choose the available 1.5-liter EcoBoost turbocharged four-cylinder, which delivers 170 hp and 177 lb-ft of torque. The 1.5-liter is EPA-rated at 26 mpg combined, or 24 mpg with all-wheel drive.
The top-trim Titanium carries a 2.0-liter EcoBoost engine with 245 hp and 275 lb-ft of torque. Efficiency slips just a bit to 24 mpg combined, or 23 mpg with all-wheel drive. A six-speed automatic transmission is used on all versions of the Escape.
Does Newer Mean better?
The Equinox has made obvious gains in efficiency and technology while retaining its core attributes. Buyers who made the old model a success will find this one even more appealing.
The Escape is still stylish, practical, and engaging to drive. But that's not enough to keep its reign going.
Our Verdict: Chevrolet Equinox
A new Escape is in the works for the 2020 model year. At least until then, the Equinox is the fresher choice.
Take a closer look at the Chevrolet Equinox »