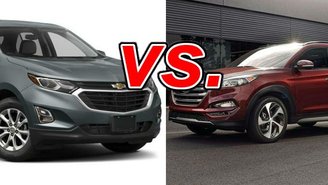 The Chevrolet Equinox recently went through a huge change, as it shrunk in size and dropped a whopping 400 pounds. This puts it in a better spot to compete with other compact crossovers, like the Hyundai Tucson. The Tucson and Equinox match up well on paper, with each offering benefits that the other lacks, but which is the better buy for the average family? Keep reading to find out.
See a side-by-side comparison of the Equinox & Tucson »
What the Equinox Gets Right
With its longer body, the Chevy Equinox gives buyers a bit more room to spread out in the cabin. Specifically, the rear seats have an extra 1.5 inches of leg room at 39.7 inches. In addition to its roomier rear seats, the Equinox also comes with extra cargo room, as it can swallow up to 63.5 cubic feet with the rear seats folded.
Under its hood, the number of choices the Equinox offers gives it a slight advantage. Its base 1.5-liter turbo engine delivers plenty of pop with its 170 horsepower and 203 pound-feet of torque. Optionally, buyers can up this to 252 hp and 260 lb-ft with the 2.0-liter turbocharged engine. This engine also mates to a new nine-speed transmission that shifts smoothly.
Those seeking better fuel economy can get up to 32 miles per gallon combined from the Equinox's range-topping 1.6-liter turbocharged diesel engine. What's more, this diesel unit still manages to deliver 240 lb-ft of torque, which affords it a 3,500-pound towing capacity.
What the Tucson Gets Right
The 2018 Tucson starts from $23,530, giving it a $1,045 advantage over the 2018 Equinox, plus its styling is more creative and whimsical than the Equinox's rental-fleet looks. While this price disparity isn't huge, it's a difference maker in such a tight comparison. At this price, you also get a great warranty and solid crash-test results. Though its base SE trim feels a bit spartan, there are plenty of more-upscale trims to pick from that dress it up a bit.
Though the Tucson lacks in the engine department, its chassis delivers a superior ride quality, especially for the price. Add to that plenty of insulation to keep the cabin quiet, and there's good reason to feel like you're driving a more upscale vehicle.
Finally, though the Tucson loses in overall cargo hauling, it outdoes the Equinox when hauling cargo with the rear seats up (31 cubic feet to 29.9 cubes).
Powertrain Options Galore
While the Equinox can't quite beat the Tucson, it's a great option for buyers looking for a range of powertrains to choose from.
Verdict: Hyundai Tucson
The Tucson just squeaks by the Equinox thanks to its better price, superior ride quality, more unique looks, and quieter cabin. Though the margin of victory was thin, a win is a win.
Take a closer look at the Chevrolet Equinox »