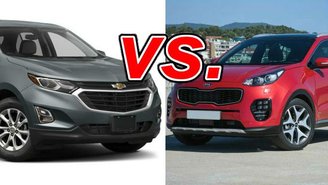 The Chevrolet Equinox enters new territory by shaving off 400 pounds and taking aim at some of the leaders in the small crossover class, like the RAV4 and CR-V. Another rival it's taking aim at now is the Kia Sportage. Both models have a lot to offer, including the Equinox's fuel-sipping diesel and the Sportage's zippy performance. But which is the better buy? We took a deep dive into both the Chevrolet Equinox and the Kia Sportage to find out.
See a side-by-side comparison of the Equinox & Sportage »
What the Equinox Gets Right
While its styling may be a bit too bland for some, the Equinox's looks are far less polarizing than the Sportage. Plus, with its new fabric inside, the cabin feels more upscale than most other models in its class. Additionally, its 39.7 inches of rear leg room and 63.5 cubic feet of max cargo space give it a slight leg up on the Sportage.
The Equinox's new base 1.5-liter turbocharged engine delivers 203 pound-feet of torque from 2,500 rpm, giving it 28 lb-ft more than the base Sportage. What's more, its 252-horsepower 2.0-liter injects a healthy dose of torque too. And, for those looking for more thriftiness, there's an optional 1.6-liter diesel engine that pushes its fuel economy to a hybrid-like 32 miles per gallon combined.
What the Sportage Gets Right
The Sportage delivers a more unique appearance that certain buyers may prefer, but it's a touch polarizing. Inside, Kia paid close attention to the materials it used, giving the Sportage a more upscale feel than the Equinox. Plus, its UVO infotainment system is simple to use and doesn't require a novel-sized manual to learn.
Under its hood, the Sportage gives up a bit in power and fuel economy to the Equinox, but it's far more fun to drive than the Chevy. It feels more at home in the corners, especially in the SX trim, without compromising ride quality. All around, it is a fine-driving crossover that doesn't mind being pushed a bit.
Much Improved, but Still Lacking
The redesigned Chevy Equinox is far better than it was, as its weight-loss program made it a true competitor to the likes of the Sportage. It's especially useful for those with fuel economy on the top of their mind, but it still lacks the all-around quality of the Sportage.
Verdict: Kia Sportage
The Sportage isn't without its flaws, but it does nearly everything just a bit better than the Equinox. Where it really separates itself, though, is its ability to handle the corners and the quality of its interior.
Take a closer look at the Chevrolet Equinox »