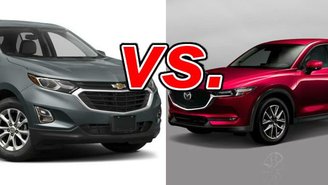 Although they compete for the same buyers, the Chevrolet Equinox and Mazda CX-5 will never be mistaken for siblings. With its substantial feel and cruising ability, the Equinox plays the grown-up of the compact crossover class. The nimble CX-5 makes the case that a family vehicle can be just as fun to drive as it is practical. Which approach works better for us?
See a side-by-side comparison of the Equinox & CX-5 »
What the Equinox Gets Right
The Equinox receives a total redesign this year, resulting in dramatically improved looks and efficiency. It remains on the larger end of this class, and five passengers can slip into the comfy interior with no problem. The ride is smooth and quiet, almost to the point of being plush. There's 29.9 cubic feet of cargo space behind the rear seat, and 63.5 cubic feet with it folded.
All engines are new this year. The standard 1.5-liter turbocharged four-cylinder puts out 170 horsepower and 203 pound-feet of torque. A six-speed automatic transmission comes standard. This setup is EPA-rated at 28 miles per gallon combined, or 26 mpg combined with all-wheel drive.
The optional 2.0-liter turbo offers a boost to 252 hp and 260 lb-ft of torque. Paired with a nine-speed automatic, the 2.0-liter returns an estimated 25 mpg combined, or 24 mpg with all-wheel drive.
Chevy also offers a 1.6-liter turbodiesel four-cylinder that makes 137 hp and 240 lb-ft of torque. With the turbodiesel under its hood, the Equinox achieves an outstanding 32 mpg combined.
What the CX-5 Gets Right
The CX-5 honors its athletic looks with some of the best handling in this class. The quick steering provides a satisfying level of road feel. The ride is as alert as it can be without intruding on passenger comfort.
The 2.5-liter four-cylinder produces 187 hp and 186 lb-ft of torque. There's no optional engine, but the CX-5 never feels like it needs one. The 2.5-liter works well with the six-speed automatic, delivering snappy acceleration, along with 28 mpg combined (26 mpg with all-wheel drive).
The rear seat can be tight for three adults, although cargo space is quite good at 31 cubic feet. With the seat folded, the CX-5 can handle 59.6 cubic feet, an average showing.
Comfort or Sport?
We can't quibble with the overall competence of either crossover. They deliver exactly what they promise. For the Equinox, that means a relaxing travel experience for the whole family. The CX-5 succeeds in a different way. It rewards the driver in a way that few competitors can.
Our Verdict: Mazda CX-5
The CX-5 offers a blend performance and utility that's hard to come by for the price.
Take a closer look at the Chevrolet Equinox»