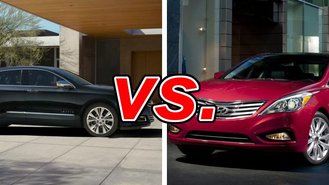 If we asked you to name an American sedan, it wouldn't be a surprise if the first car that comes to mind is a Chevrolet Impala. In and out of production since 1957, the Impala has been Chevy's greatest contender in the full-size sedan market.
See a side-by-side comparison of the Impala & Azera »
Over the past 30 years, however, offerings from Asian brands have slowly but surely taken a gargantuan piece of the sales pie with cars like the Hyundai Azera -- a far cry from the Hyundai we knew ten to fifteen years ago.
Improved Hyundai quality has brought increased Hyundai prices, though. How does this affect the rivalry between the two large sedans?
What the Chevrolet Impala Gets Right
The recently-redesigned Impala comes in five trim levels -- the top-of-the-line LTZ2 gets standard features such as leather seats and dual-zone climate control. The Impala is available with a choice of two engines: the 195-horsepower ECOTEC 2.5-liter four-cylinder and the impressive 305-horsepower 3.6-liter V6. Both send power to the front wheels via a six-speed automatic transmission. Prices start, very reasonably, in the mid-$20,000s but can rise dramatically.
What the Hyundai Azera Gets Right
The Azera is also new, and features styling that's a bit more exciting than the tautly muscular Impala. While its base price is a good deal higher than that of the Impala, its base model's performance numbers are higher as well. The lone engine is a 293-horsepower 3.3-liter V6. Power is managed by the Azera's six-speed automatic transmission, and the Hyundai is capable of up to 29 miles per gallon.
Is the Azera's Price An Achilles Heel?
Not when you consider that the lone engine is nearly as powerful as the six-cylinder in the Impala. If you choose an Impala that includes the V6, the price difference between the Hyundai and the Chevrolet becomes negligible.
Winner: Hyundai Azera
We chose the Hyundai Azera because, in our opinion, it's a more complete package for the money.
Take a closer look at the Chevrolet Impala »