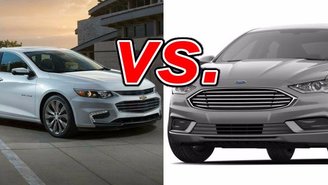 The Chevrolet Malibu Hybrid was redesigned in 2016 for greater interior room and more efficient packaging. The Malibu Hybrid offers all the comfort features you may need, coupled with reassuring performance and outstanding efficiency.
The Ford Fusion continues its successful line of hybrid models. The Fusion Hybrid remains one of the best midsize hybrid sedans on the market.
Both the Malibu and the Fusion are quite impressive, but which one is a better choice?
See a side-by-side comparison of the Malibu Hybrid & Fusion Hybrid »
What the Chevrolet Malibu Hybrid Gets Right
The Chevrolet Malibu Hybrid comes equipped with a 1.8-liter four-cylinder engine, which works together with a twin electric motors, and a 1.5 kWh lithium-ion battery. All together, the Hybrid produces 182 horsepower. The Malibu achieves 46 mpg in combined city and highway driving, which is exceptional for this class. The Hybrid is equipped with advanced features, like the remote keyless entry, built-in Wi-Fi and a rearview camera. On the exterior, you get 17-inch alloy wheels, as well as an extremely smooth and long shell. As for safety options, the Malibu offers features like lane keeping assist, blind spot monitoring, and pedestrian detection.
What the Ford Fusion Hybrid Gets Right
The Ford Fusion Hybrid comes equipped with a 2.0-liter four-cylinder engine, which works alongside an 88-kW electric motor. The Ford Fusion's exterior has become extremely iconic, and it continues to feature a long, smooth, and slick shell. The Fusion Hybrid comes equipped with 17-inch wheels, a rearview camera, and the SYNC infotainment system. For a bigger price tag, you can get leather upholstery, exterior LED lighting, adaptive cruise control, and lane departure warning. The line-topping Platinum comes equipped with a collision mitigation system, a heated steering wheel, and more.
Which Car is the Better Choice, Malibu or Fusion?
Choosing between the Ford Fusion and the Chevrolet Malibu is harder than you may think. Both cars are almost identical in everything, including price. The Ford's more refined interior could be the deciding factor for many buyers.
The Ford Fusion Hybrid continues to impress us with its overall design and refinement.
Take a closer look at the Chevrolet Malibu Hybrid >>