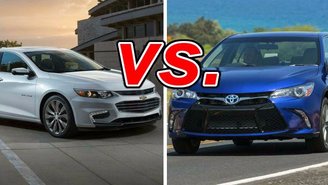 The Chevrolet Malibu Hybrid was redesigned last year for more interior room and less weight. It also delivers numerous comfort features to ensure that your travels are as pleasant as possible. This car is one of the top contenders in the hybrid market.
The Toyota Camry Hybrid has received mild upgrades since its last restyle in 2015. The Camry features a spacious interior with plenty of comfort features, and the exterior remains quite attractive. This hybrid features all the latest technology, making it one of the most desirable models in this class. It's always tough to compete with the quality of the Toyota Camry Hybrid.
Can the Malibu compete with the legendary quality of the Camry?
See a side-by-side comparison of the Malibu Hybrid & Camry Hybrid »
What the Malibu Hybrid Gets Right
The Chevrolet Malibu Hybrid comes equipped with a 1.8-liter four-cylinder engine, which works alongside a twin electric motors and lithium-ion battery. Total output is 182 horsepower. The Malibu Hybrid is rated at 46 mpg in combined city and highway driving, one of the highest in the hybrid market. The Hybrid is equipped with the latest options, such as keyless entry, built in wi-fi capability, and a backup camera. The Malibu offers some of the latest, most advanced safety features, including lane keeping assist, blind spot monitoring, and a pedestrian detection system. The current Malibu is a huge improvement over the previous generation.
What the Toyota Camry Hybrid Gets Right
The Toyota Camry Hybrid comes with a 2.5-liter four-cylinder-electric-gasoline engine, which produces 200 horsepower and is rated at 43 mpg in combined driving. The interior features power front seats, a backup camera, push-button start, and blind spot monitoring. As for the exterior, the Camry features 17-inch alloy wheels, a sunroof, and LED lighting. Overall quality and refinement remains at the top of this class.
Can the Malibu compete with the Camry's quality?
The Malibu Hybrid beats the Camry Hybrid in efficiency, but trails it in quality and performance.
The Toyota Camry Hybrid remains one of the most capable hybrid sedans on the market. It continues to raise the bar with ever-increasing technology and performance.
Take a closer look at the Chevrolet Malibu Hybrid >>