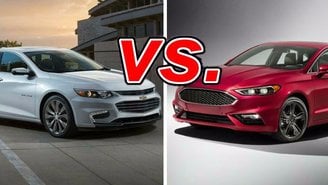 For nearly a century, Ford and Chevrolet have competed with each other in the family sedan market. In recent decades they've played second fiddle to the rivalry between Honda and Toyota, but both Ford and GM have upped their game in recent years. Suddenly, their midsize entries are relevant again.
The Malibu is all-new this year, and the Fusion is firmly ensconced in the top tier of family sedans. Does the reborn Malibu threaten its position?
See a side-by-side comparison of the Malibu & Fusion »
What the Malibu Get Right
The Malibu offers more seat room this year, and yet has shed some 300 pounds. The redesign has also brought more available safety features, including adaptive cruise control and an automatic parking system.
The standard 1.5-liter four-cylinder makes 160 horsepower and comes with a six-speed automatic transmission. This setup delivers an impressive 37 mpg on the highway and 27 mpg around town. For snappier performance, Chevy also offers a 2-liter turbocharged four-cylinder with 250 horsepower. The 2-liter gets an eight-speed automatic transmission
What the Fusion Gets Right
It's safe to say the Fusion is the style leader in this rather conservative class. Its unique looks seem appropriate, though, for a sedan with the Ford's spirited driving dynamics and suite of convenience and safety technology.
On the road, the Fusion always manages to be quiet and composed, imparting the feel of an entry-level luxury car. Wind and engine noise have been all but engineered out at highway speeds. The optional 2-liter turbocharged four-cylinder provides performance similar to a V6, but with vastly superior fuel economy. The line-topping Titanium model, powered exclusively by the 2-liter turbo, offers all-wheel drive in addition to the expected luxury trappings
Is the Malibu More Buzzworthy?
The new Malibu successfully addresses any misgivings we may have had about the old model. It's more efficient this time around, and offers enhanced style and technology. The Fusion remains as refined and accommodating as ever, and even offers some fun to buyers who like to drive.
Our Verdict: Ford Fusion
The Malibu covers all the bases and looks good doing it. Even so, the Fusion goes further beyond what's expected in this class. It remains a standout in our book.
Take a closer look at the Ford Fusion >>