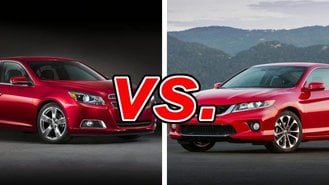 Ask most people about family sedans, and the Honda Accord will likely be the first vehicle that comes to mind. The Accord isn't alone in the segment, though. Competitors like the Chevrolet Malibu are constantly trying to match the Accord's sales success. So, does the Malibu have what it takes to knock the Accord off of its sales pedestal?
See a side-by-side comparison of the Malibu & Accord »
What the Malibu Does Right
The redesigned Chevrolet Malibu strives to check all of the boxes required for a competent family sedan. Following the current trend set by the Hyundai Sonata, V6 power is eschewed in favor of a more efficient turbo four-cylinder as the top engine. A naturally aspirated 2.5-liter four cylinder serves as the base engine, and the mild hybrid Malibu Eco slots between them.
The Malibu's interior and exterior showcases GM's commitment to bold design and quality materials. Sweeping headlights draw the eye down the side of the car to Camaro-inspired taillights. Inside, the driver faces wraparound ambient lighting, tight panel fits and -- at higher trim levels -- leather-wrapped seats, steering wheel and dash. All of these elements combine to give the Malibu a pleasingly premium feel.
What the Accord Does Right
The Honda Accord has been one of the segment's top sedans for years, a trend that should continue after a recent redesign. The Accord has a well-controlled ride and handling that strikes an excellent balance between sport and comfort. Most drivers will find the car's dynamics to their tastes. Power comes from a standard four-cylinder, optional V6, or plug-in hybrid. The V6 earns an EPA rating on 34 mpg on the highway, matching the base four-cylinder.
The Accord's interior is spacious and well trimmed, with room for five adults. Automatic climate control and a backup camera are standard on all Accords. The trunk can swallow 15.8 cubic feet of luggage.
Can the Malibu Defeat the Champ?
The Malibu has made great strides in the segment, but it finds itself held back by some critical flaws. Unlike the Accord, the back seat is tight for 3 adults, and we found the rear bench itself to be flat and hard. Although the two cars are priced similarly, the Accord boasts a longer list of standard features, as well as the option of a six-speed manual for those who like to row their own.
Our Verdict: Honda Accord
The Accord manages to be a family sedan with plenty of room that's also engaging to drive. Unfortunately for the Malibu, it's snazzy looks and fancy interior materials can only carry it so far.
Take a closer look at the Chevrolet Malibu »