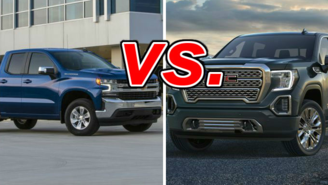 General Motors introduced all-new versions of the Chevrolet Silverado 1500 and the GMC Sierra 1500 for the 2019 model year. As corporate twins, the Silverado 1500 and the Sierra 1500 share a lot of the same components, which shouldn't come as a surprise to anyone that's shopped between the two full-size pickup trucks before. The new year, though, brings a few fundamental changes between the two models. To separate the Silverado 1500 from the Sierra 1500, GMC has packed its pickup truck with more exclusive, premium features. Below, we'll compare the two to see if one option is better than the other for the majority of consumers.
See a side-by-side comparison of the Silverado 1500 & Sierra 1500 »
What the Silverado 1500 Gets Right
Since Chevrolet is the more affordable brand compared to GMC, the Silverado 1500 has a more affordable price tag than the Sierra 1500. Pricing for the 2019 Silverado 1500 starts at $33,695, while the 2019 Sierra 1500 costs $37,395. Saving an extra $3,700 is a good reason to go with Chevrolet's option.
With its lower price tag, the Silverado 1500 is a better value proposition than the Sierra 1500. The more affordable pickup truck, for the most part, offers a similar design on the inside, which means you can get the same leather-appointed seats, 8-inch touchscreen, heated and ventilated seats, and wireless charging system on both. Besides open-pore wood on the Sierra 1500, there's not a lot that's missing from the Silverado 1500 on the inside.
What the Sierra 1500 Gets Right
For 2019, Chevrolet adopted an aggressive exterior design that some may find polarizing. As the more upscale vehicle, the Sierra 1500 has a more classic design that'll be a hit with more consumers. If you're not looking to stand out on the road, the Sierra 1500 might be a better choice.
Compared to the Silverado 1500, the Sierra 1500 comes with more high-tech features and components. The Sierra 1500 can be fitted with adaptive dampers, a carbon fiber cargo box, and GMC's six-function MultiPro tailgate. The unique tailgate has six functions that'll definitely come in hand for owners.
Want Technology and a Little Luxury?
If having adaptive dampers, a carbon fiber cargo box, and an incredibly handy six-function MultiPro tailgate, is something you're looking for from your full-size pickup truck, then the GMC Sierra 1500 is the better option. The Sierra 1500's more upscale exterior design and slightly more luxurious interior will appeal to some consumers more than the Silverado 1500's more dynamic appearance.
Our Verdict: Chevrolet Silverado 1500
Get past the Chevy Silverado 1500's looks and the lack of the fancy tailgate, and the truck is awfully similar to its higher-end cousin. Offering a lot of the same features at a more affordable price is what helps the Silverado 1500 win this comparison.
Take a closer look at the Chevrolet Silverado 1500»