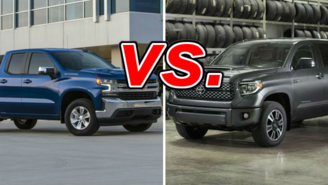 The Chevrolet Silverado 1500 has always been a hard-working pickup with all-American style and endless possibilities for customization. This year's redesign brings more passenger room, a smoother ride, and new engine choices. Here, we give the latest Silverado a chance to prove itself against the Toyota Tundra, a well-rounded, civilized truck with full-size power and capability.
See a side-by-side comparison of the Silverado 1500 & Tundra »
What the Silverado 1500 Gets Right
Despite having a larger cab, the Silverado 1500 is actually 450 pounds lighter this year. The doors, hood, and tailgate are now made of weight-saving aluminum instead of steel.
An increase in head room makes the whole passenger compartment feel airy and relaxing. Rear leg room is especially generous. The revised suspension permits a more car-like ride, as well as sharper handling.
Base models start out with a 4.3-liter V6 engine and a six-speed automatic transmission. With 285 horsepower and 305 pound-feet of torque on tap, V6 models can pull up to 6,000 pounds and are EPA-rated at 16 miles per gallon city, 21 mpg highway, and 17 combined. All estimates are about one mpg lower with four-wheel drive.
A 5.3-liter V8 is either standard or optional throughout the lineup. It produces 355 hp and 383 lb-ft of torque, enough to tow up to 11,600 pounds. Paired with an eight-speed automatic, the 5.3-liter is rated at 17/24/19 mpg (city/highway/combined).
For maximum grunt, Chevy offers a 6.2-liter V8 with 420 hp and 460 lb-ft of torque. The larger V8 uses a 10-speed automatic transmission and enables the Silverado to tow 12,200 pounds.
Buyer can also get a four-cylinder engine for the first time in Silverado history. The available 2.7-liter turbocharged motors musters 310 hp and 348 lb-ft of torque, and has a 7,200-pound towing capacity. The EPA rates the four-cylinder Silverado at 20/23/21 mpg.
Later in the model year, we'll also see a 3.0-liter six-cylinder turbodiesel engine. Ratings aren't available yet, but we expect the turbodiesel to enhance the Silverado's pulling power without disturbing its efficiency.
What the Tundra Gets Right
Buyers with a taste for adventure will be pleased to know the TRD Pro model has returned to the Tundra lineup. The TRD Pro gets an off-road suspension and other hardware that make it one of the most trail-worthy large pickups on the market.
Toyota's Safety Sense systems comes standard, so every Tundra carries driver assistance technology like automatic emergency braking, automatic high-beams, and adaptive cruise control. The Tundra is known for its spacious rear accommodations and exceptional ride quality for this class.
The standard 4.6-liter V8 produces 310 hp and 327 lb-ft of torque. Buyers can tow up to 6,800 pounds with this engine, which is EPA-rated at 15/19/16 mpg. Upgrading to the available 5.7-liter V8 brings 381 hp and 401 lb-ft of torque. Towing capacity jumps to 10,100 pounds, while efficiency slips to 13/18/15 mpg. Both engines come with a six-speed automatic transmission.
How Close Is It?
The Toyota Tundra earns our respect for its standard features and refined, comfortable interior. That said, it comes up noticeably short in capability and efficiency. An updated drivetrain could work wonders, but for now we've left with a pair unremarkable V8s and an old-fashioned six-speed automatic. The Chevy Silverado 1500 might not be tops in every area, but we can't quibble with its power or work ethic.
Our Verdict: Chevrolet Silverado 1500
Buoyed by its capability and efficiency, the Chevrolet Silverado 1500 emerges as the product of newer thinking.
Take a closer look at the Chevrolet Silverado 1500 »