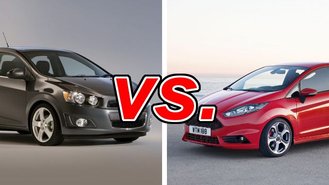 If the Chevrolet Sonic and Ford Fiesta are any indication, domestic automakers have finally figured out how to make desirable subcompacts. These are compelling cars in their own right, not just low-cost alternatives to adult iron.
See a side-by-side comparison of the Sonic & Fiesta >>
Both are surprisingly rewarding to drive and deliver the efficiency buyers expect in this class. So which goes the extra mile to win us over?
Where the Sonic Succeeds
Available as a sedan or hatchback, the Sonic feels rather substantial for this class and carries thoughtful standard features like Bluetooth and automatic headlamps. On the road, the Chevy behaves like a grown-up car, poised and confident through all phases of operation. RS models feature a sport-tuned suspension and upgraded brakes for an unexpected level of driving refinement.
The standard 1.8-liter four-cylinder produces 138 horsepower and gets up to 30 mpg in combined city and highway driving. The available 1.4-liter turbo makes the same horsepower, but delivers a few more mpg along with extra torque for snappy acceleration. So equipped, the Sonic scoots to 60 mph in 8.8 seconds, making it the quickest subcompact you can buy.
Where the Fiesta Succeeds
The Fiesta enjoys charismatic styling in either sedan or hatchback form. It's a car you want to take for a spin, if only to see what it's all about. You get much of the same expressiveness on the inside, especially with one of the available interior styling packages. Interior fit and finish are excellent in all trim levels.
The 120-horsepower 1.6-liter four cylinder deserves high marks for its low-end punch and overall smoothness. The engine is matched to a six-speed manual or class-exclusive six-speed automated dual-clutch transmission. Either way, the Fiesta returns 33 mpg in combined driving. Sophisticated suspension tuning provides impressive control when weaving through traffic and a relaxing ride on straightaways.
What's the Difference?
In terms of brute acceleration, the turbo-equipped Sonic triumphs in this class. The sharp and engaging Fiesta isn't far behind, and actually edges past Chevy when it comes to overall driving enjoyment.
Our Verdict: Ford Fiesta
With extra points for style, the Fiesta emerges as something special in this class.
Take a closer look at the Chevrolet Sonic >>