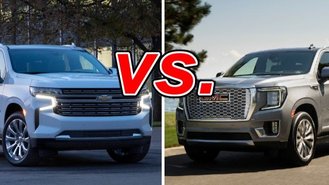 Chevrolet and GMC vehicles have long shared a genetic base, but they generally have different features that separate them. While Chevy focuses on value, GMC puts a little more aim on luxury, adding additional standard features for a higher luxury ceiling.
This trend remains true with the Chevy Suburban and GMC Yukon platform-mates. Find out which comes out on top, the Suburban's value, or the Yukon's additional features, in our head-to-head comparison below.
See a side-by-side comparison of the Chevrolet Suburban & GMC Yukon »
What the Suburban Gets Right
The Chevy Suburban kicks things off with more inches per dollar, as it starts from $52,995 including destination and measures 225.7 inches long. This gives it up to 144.7 cubic feet of cargo room. The Yukon, which starts at $51,995, is shorter by 15.7 inches and has 21.7 cubic feet less of total cargo space.
You can move up to the Yukon XL to match the Suburban's size, but its starting price creeps up to $61,795.
On top of its value for the size, the Suburban's standard features also match many of the Yukon's key base goodies. These include a 10.2-inch touchscreen, wireless Apple CarPlay and Android Auto, a six-speaker audio system, satellite radio, HD radio, wi-fi, a leather-wrapped steering wheel, and more.
The Suburban also matches the Yukon's powertrain options, including a 355-horsepower 5.3-liter V8, a 420-hp 6.2-liter V8, and a 277-hp turbodiesel. All three engines pair with a 10-speed automatic transmission.
What the Yukon Gets Right
The GMC Yukon is more flexible thanks to its two size options: standard and XL. To match the base Yukon's smaller footprint, you must step down to the Chevy Tahoe. The Yukon also offers a bolder front end that stands out in a crowd, and it's a little more traditional looking than the Suburban's in-your-face design.
Pound for pound, the Yukon costs more than the Suburban, but it offers some extra standard luxuries that make up for the cost. These standard goodies include a 10-way power driver's seat, an eight-way power passenger's seat, an 8-inch driver information center, machined-aluminum wheels, and more. Plus, the range-topping Yukon Denali gets closer to the luxury space than the Suburban.
Need the Size and Value? Go Suburban
There has always been a distinct line between Chevy vehicles and their GMC cousins, and that's the price. Chevy vehicles, while genetically identical to their GMC counterparts, have long offered the same basic vehicle for less cash. Granted, you give up a few features here and there, but the value is in the Chevy, and the Suburban is no exception.
Our Verdict: GMC Yukon
With its additional standard features, bolder look, and higher luxury ceiling, the GMC Yukon is the better option. Helping its effort are its two variants, the base and XL, allowing the Yukon to offer extra features at a lower base price than the Chevy Suburban while still providing plenty of room inside.
Take a closer look at the Chevrolet Suburban »