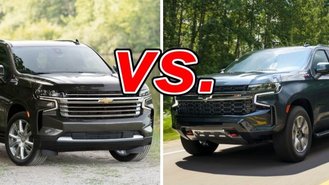 The Chevrolet Suburban is the longest-running nameplate in General Motors' storied history. The smaller Chevrolet Tahoe arrived in 1995, following the elimination of the full-size Chevrolet Blazer. Since then, the Tahoe has sat atop a shortened Suburban shared platform, essentially giving buyers a short and long version of the same SUV.
We put the redesigned 2021 Chevy Tahoe and Chevy Suburban head-to-head to see if bigger really is better.
See a side-by-side comparison of the Chevrolet Tahoe & Chevrolet Suburban »
What the Tahoe Gets Right
The Chevy Tahoe gets a quick head start on the Suburban with its $50,295 base price (including destination), which is $2,700 less than the Suburban. Plus, the Tahoe is 15 inches shorter, making it a more manageable SUV to navigate, while sharing all of the Suburban's key design features.
Despite its shorter body, the Tahoe also offers the same second- and third-row leg room as the Suburban, making it ideal for families who need space for everyone but prefer a slightly more manageable land yacht.
Though it has the same powertrain options as the Suburban, the Tahoe can tow 100 pounds more than the Suburban at 8,400 pounds.
What the Suburban Gets Right
The Chevy Suburban is virtually identical to the Tahoe in every way other than its extra 15 inches in length.
That allows the Suburban to haul 41.5 cubic feet of cargo behind the third row, 93.8 behind the second row, and 144.7 behind the first row. These capacities beat the Tahoe by 16, 21.2, and 21.8 cubic feet, respectively.
U.S.S. Suburban is ready for sailing hauling
The Chevy Suburban may not be for every family. However, those who plan to pack every seat with a body and haul tons of cargo will find its extra 15 inches of body helpful. Otherwise, there's little reason to buy the Suburban over the Tahoe.
Our Verdict: Chevrolet Tahoe
Take away the tape measure, and the Chevy Tahoe is virtually identical to the Chevy Suburban but with 15 fewer inches hanging off the tail. This makes it an easier drive on crowded streets and easier to park in a standard garage. Plus, at nearly $3,000 cheaper, the Tahoe offers a better value.
Take a closer look at the Chevrolet Tahoe »