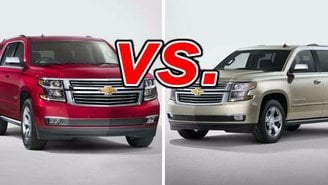 Buyers in the market for a traditional full-size SUV have two choices when they walk into a Chevrolet showroom. Both the Tahoe and Suburban can handle up to nine passengers, tow a camper, and keep going when the pavements ends. In fact, they're virtually identical from the front bumper to the second row of seats. Beyond that point, the Tahoe is merely spacious, whereas the Suburban is downright cavernous.
Is the Tahoe big enough, or is the mighty Suburban what families really need?
See a side-by-side comparison of the Tahoe & Suburban »
What the Tahoe Gets Right
The Tahoe's 5.3-liter V8 provides 355 horsepower and 383 pound-feet of torque. That's enough grunt to tow up to 8,600 pounds, which puts the Tahoe in same league as a full-size truck. The EPA rates the Tahoe at 23 miles per gallon on the highway, quite a feat for vehicle of this size and capability.
All models come fully equipped for family life, and Chevrolet offers a ton of infotainment and comfort upgrades, plus every safety feature known to this class. The Tahoe can carry up to 94.7 cubic feet of cargo with second and third rows folded.
What the Suburban Gets Right
The Suburban's wheelbase is 14 inches longer than the Tahoe's, and it's 20 inches longer overall. That translates into 10 extra inches of leg room in the third row and more room for cargo behind it. With the third row in use, the Suburban offers 39.3 cubic feet of load space, versus just 15.3 cubic feet in the Tahoe. Total cargo capacity is an astonishing 121.7 cubic feet.
Despite it size, the Suburban earns the same EPA ratings as the Tahoe, and its larger gas tank permits about 115 more miles of highway range.
What's the Catch?
The Suburban costs $2,000 to $3,000 more than a comparably equipped Tahoe. It can be a handful in parking lots, and looks a little ungainly for a passenger vehicle. The Tahoe isn't exactly trim, but it is a bit easier to maneuver and enjoys a neater appearance.
Our Verdict: Chevrolet Suburban
Buyers who truly need three rows of seating can get it in the Suburban with room to spare.
Take a closer look at the Chevrolet Tahoe »